Transformation Campaign
Transformation Campaign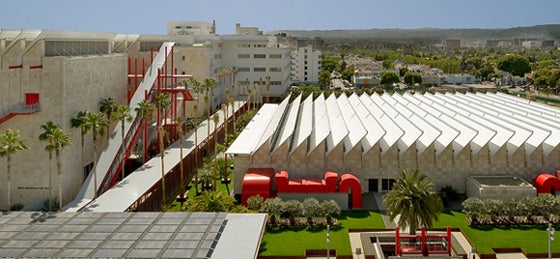 In 2004 LACMA embarked on its multiphase Transformation. This ambitious capital campaign expanded, upgraded, and unified the museum's 20-acre campus through the addition of new buildings, beautifully reinstalled permanent-collection galleries, and the acquisition of monumental, destination artworks.
Designed by Renzo Piano, the Broad Contemporary Art Museum added 60,000 square feet of gallery space almost entirely devoted to the display of art. The Lynda and Stewart Resnick Exhibition Pavilion, an open-plan building designed to adapt to a rotating slate of special exhibitions, contributed 40,000 square feet to the campus. The open-air BP Grand Entrance plays host to an active social space, where Ray's and Stark Bar, a new restaurant and bar at the center of the museum's campus, greet museums visitors and the general public. All in all, these additions provided more access to public spaces of Hancock Park.
Monumental works of art, such as Chris Burden's Urban Light, Michael Heizer's Levitated Mass, Robert Irwin's palm gardens, Barbara Kruger's Untitled (Shafted), and Tony Smith's Smoke, among others, have become icons of Los Angeles.
Learn more about a proposed design for LACMA's east campus, designed by Pritzker Prize-winning architect Peter Zumthor.