Southern Asian Art Council (SAAC)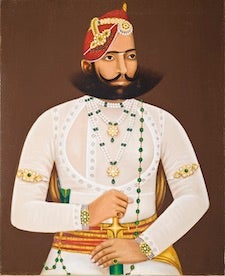 LACMA's South and Southeast Asian collection consists of some 4,000 artworks representing India, Pakistan, Bangladesh, Sri Lanka, Tibet, Nepal, Bhutan, Myanmar, Thailand, Cambodia, Laos, Vietnam, and Indonesia. The collection is especially notable for its stone and copper alloy sculpture, Buddhist and Hindu, from across these various regions. South Asian courtly paintings, drawings, and decorative arts, as well as Himalayan thangkas and manuscripts, are also among the collection's strengths.
SAAC is led by Tushara Bindu Gude, associate curator of South and Southeast Asian Art.
Annual Dues: $1,000 ($826 is tax-deductible)
More Info: 323 857-6295 | saac@lacma.org
Want a deeper connection? Consider joining an Acquisitions Group. 
Image: Kunwar Sabal Singhji, India, circa 1880–1900, Los Angeles County Museum of Art, Southern Asian Art Council, © Museum Associates/LACMA