The Gilbert Collection:Silver and Gold
Silver and Gold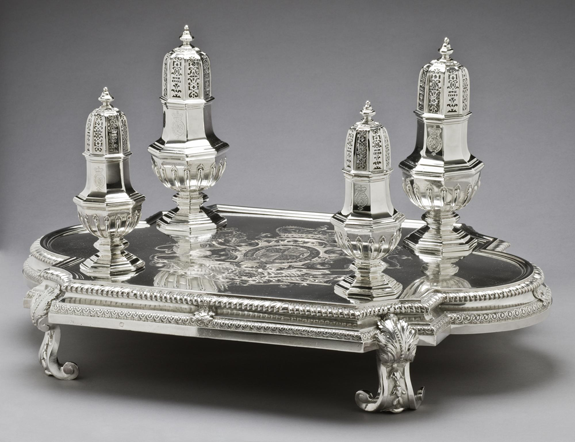 Silver
Sir Arthur Gilbert first started collecting British eighteenth and nineteenth-century silver. Similar to the composition of the collection as a whole, the Gilbert works of silver displayed at LACMA are mainly of British origin, but Arthur's interest in Continental pieces is also evident. Ornate seventeenth- and eighteenth-century mounts for porcelain vessels are also included in the collection. The British works on view at LACMA were fashioned mainly for domestic use and span the late seventeenth to early nineteenth centuries.
The end of the seventeenth century saw a great transformation in the English silversmithing industry via the immigration of French silversmiths, the increased presence of Britain as a world economic power, the development of consumerism, and significant changes in the way the English dined and drank. Louis XIV's revocation in 1685 of the Edict of Nantes—which allowed French people of Protestant faith to freely practice their religion—created a Northern European diaspora of French Protestants, or Huguenots, many of whom settled in London. A number of those immigrants were talented craftsmen and artisans, including silversmiths. Huguenot goldsmiths are credited with increasing the quality and creativity of silver production in London, where they thrived in a closely connected network of interdependent craftsmen who provided the city's elite with the newest styles, rendered with superb craftsmanship.
Of Huguenot design, the impressive plateau and set of four casters is marked by Anne Tanqueray, who took over the workshop of her late husband, silversmith David Tanqueray. Plateaus are flat table ornaments upon which candlesticks, cruets, salts, or casters, like the baluster-shaped examples in Baroque style shown here, are set. By means of their pierced covers, casters are used to sprinkle sugar, salt, or spices—which were still considered luxury items at that time—onto foods at the table. This plateau features an engraved royal coat of arms surrounded by a gadrooned border with masks on each of the four sides.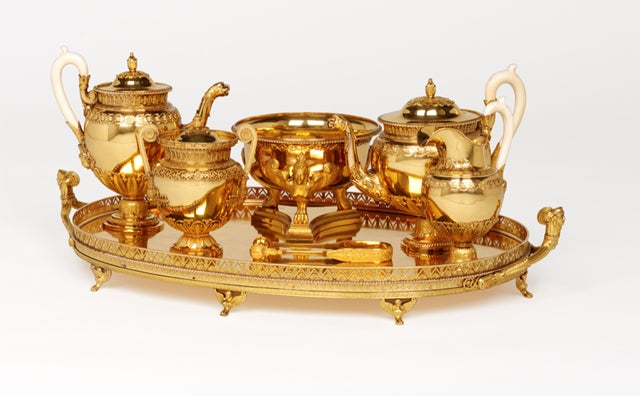 Gold
Although the majority of the gold and silver in the Gilbert Collection is of British origin, Sir Arthur Gilbert was keen to expand his collection and added pieces from a wide range of countries, including Brazil, France, Germany, Italy, the Netherlands, and Russia. The Continental wares were commissioned for both secular and religious purposes during the late eighteenth to early nineteenth centuries. This six-piece solid gold Russian tea service was created by Johann Wilhelm Keibel of the celebrated Keibel firm, one of the primary jewelers to the Russian court. The elegant neoclassical ornamentation of the service is as intricately detailed as a piece of jewelry.
Images:
Anne Tanqueray, London, England, active c. 1724-1733. Plateau with Four Casters, 1728-29, Silver. Promised gift of the Marjorie W. Gilbert 2001 Trust, established by Sir Arthur Gilbert, Lady Marjorie Gilbert and Charles M. Levy, Trustees.

Johann Wilhelm Keibel, St. Petersburg, Russia, 1788-1862, Tea and Coffee Service, 1825, Gold with Ivory. Long-term loan from the Rosalinde and Arthur Gilbert Collection on loan to the Victoria and Albert Museum, London.