This three-channel video installation by Hassan Hajjaj includes nine separately filmed performances by an international array of musicians. The sitters/performers wear clothes that Hajjaj has designed himself, and pose in spaces covered by patterns he has selected. Clad in traditional fabrics, as well as luxury brand clothes and shoes, the musicians bridge the gap between now and then, us and them, high and low culture, reflecting a fusion of Moroccan craftsmanship and contemporary art.

Hajjaj, born in 1961 in Larache, Morocco, moved to London in 1975, and now divides his time between London and Marrakesh. Best known as a photographer, he also employs video. His work depicts a globalized society that pushes and blurs the boundaries of cultural identity—whether African, Arab, or Western.

Image: Still from Hassan Hajjaj, My Rock Stars Experimental Volume 1, 2012, Purchased with funds provided by Art of the Middle East: CONTEMPORARY, M.2013.81.



Forgotten Jewels of Interior Decoration: Materials, Techniques, and Preservation of Historic Reception Rooms from Damascus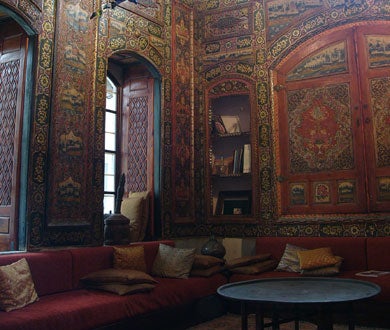 Wednesday, February 26, 2014 | 7 pm
LACMA, Brown Auditorium
Free and open to the public; reservations required
Note: RSVP by February 25 to Jilana Stewart at 323-857-6011 or artofthemiddleeast@lacma.org
Plan Your Visit 
<![if !supportLineBreakNewLine]>
<![endif]>
In Damascene homes of the 18th and 19th centuries, the rooms used for the reception of guests and family held pride of place due to their role in the valued art of hospitality. These interiors were thus lavishly adorned with a diverse array of materials and decorative techniques. Many are still preserved in the Old City of Damascus, and several are displayed in collections around the world. Designed for daily use, they now bear the evidence of their years of alteration, renovation, and well-intended maintenance, often concealing the beauty and complexity of the original surface decoration. This talk provides some insight into the newly rediscovered materials and techniques of these luxurious rooms, with a discussion of the challenges and successes in preserving and presenting their original splendor.

Dr. Anke Scharrahs is a freelance conservator who has been researching and conserving Syrian-Ottoman decoration since 1997.

Image: Reception room for guests in Bayt Jacques Montluçon, Damascus, dated 1204 H / A.D. 1789–90.



2014 Farhang Foundation Short Film Festival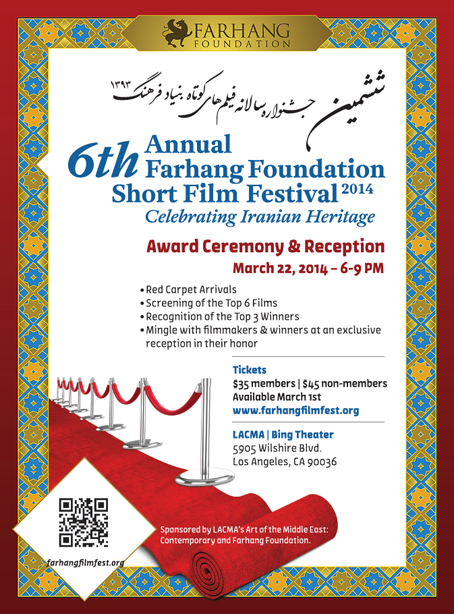 Saturday, March 22, 2014 | 6 pm
LACMA, Bing Theater
LACMA members: $35 | General admission: $45
Tickets:323 857-6010 or purchase online.
Note: Includes admission to screening and private reception. Cash bar.
Plan Your Visit 
<![if !supportLineBreakNewLine]>
<![endif]>
The 2014 Farhang Foundation Short Film Festival Award Ceremony includes screenings of the contenders for the top films, created by emerging talents from all over the world, as well as recognition of the top three winners of this year's competition. An exclusive reception with the winners and other filmmakers follows.

With master of ceremony, Shirin Rajaee

This red-carpet event is followed by an exclusive reception in honor of the filmmakers, featuring Persian-themed drinks and appetizers prepared by Patina and accompanied by a DJ and lively music!

Sponsored by Art of the Middle East: CONTEMPORARY and Farhang Foundation.

Nowruz Celebration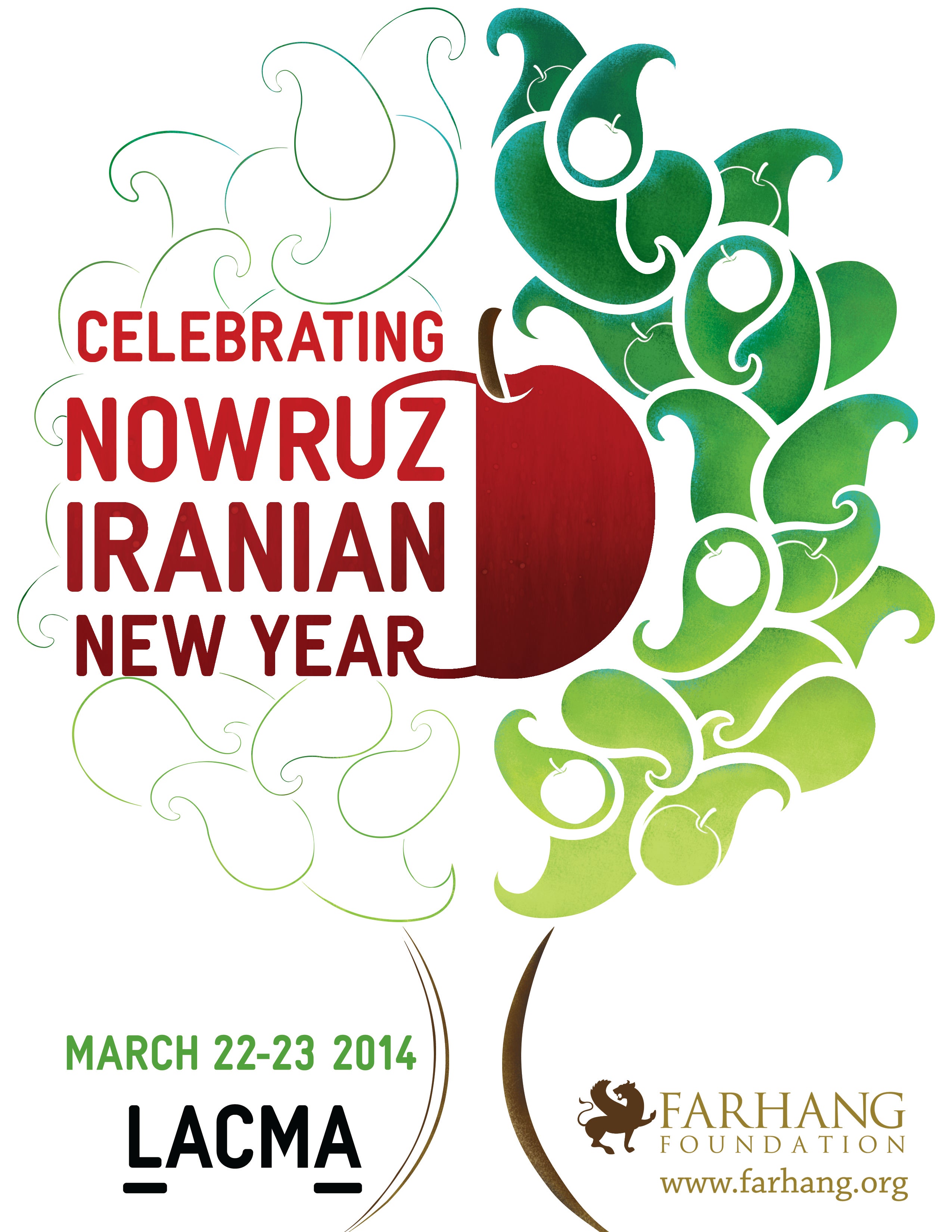 Sunday, March 23, 2014 | 11:30 am—7 pm
LACMA, museum-wide
Free and open to the public (some parts of the event are ticketed). | Performances that take place in the Bing Theater require tickets.
Bing Theater events: $15
Note: Tickets: 323 857-6010 or purchase online.
Plan Your Visit 
<![if !supportLineBreakNewLine]>
<![endif]>
Celebrate the arrival of spring with a full day of exciting activities throughout LACMA's campus. This Nowruz festival includes live performances, music, storytelling and calligraphy for children, and a traditional Nowruz display known as Haft Sîn! For the first time, the event features a traditional Iranian costumes parade, and individuals of all ages are invited to participate starting at 3 pm at the Los Angeles Times Central Court.

The world premiere of Spring Love by Ziba Shirazi takes place at 2 pm in the Bing Theater. The performance celebrates the dynamic traditions of Nowruz through the story of three generations of a family experiencing love at first sight through a blend of music, dance, and imagery. This program requires a ticket ($15 per guest). All other programs are free and not ticketed.

The outdoor concert by the dynamic London-based band Ajam takes place starting at 5 pm at BP Grand Entrance. The performance takes audiences on a small tour of Iran, showcasing how Nowruz is celebrated along coast of the Persian Gulf.



Around Iran
A journey to Azerbaijan and Uzbekistan



April 29–May 10, 2014
 
<![if !supportLineBreakNewLine]>
<![endif]>
Join the Art of the Middle East department at LACMA on a very special journey through Azerbaijan and Uzbekistan. We will travel around modern-day Iran but will none-the-less experience some of the highlights of Persian art and architecture. This trip provides a unique opportunity for anyone who has ever dreamed of visiting fabled Samarkand or Bukhara, representing the eastern reaches of Persian culture, or the southern Caucasus and Caspian regions, just north of Iran. For more information contact Jilana Stewart at 323-857-6011 or jstewart@lacma.org.


<![if !supportLineBreakNewLine]>
<![endif]>
Art of the Middle East: CONTEMPORARY
The aquisition of contemporary works of art by artists with roots in the Middle East expands the relevance of LACMA's collection—transforming it into a creative link between the past, the present and the future. Launched in 2011, the Art of the Middle East: CONTEMPORARY (AMEC) supports this endeavor.

By becoming a member of AMEC, you will have the chance to participate in building this new contemporary collection. Members enjoy a host of exclusive benefits ranging from private artist receptions to VIP travel opportunities.

$1,000 (Already a Friend member or above)
$1,250 (AMEC + Friend membership)


Learn More: 323 857-6011 | amec@lacma.org | Join
© Museum Associates dba the Los Angeles County Museum of Art.
All rights reserved. For more information please call 323 857-6011