James Turrell's Perceptual Cell and Dark Matters
James Turrell's Perceptual Cell and Dark Matters

May 26, 2013–April 6, 2014
Two special Turrell installations on view are Perceptual Cell and Dark Matters—one premium ticket gets you into both, and grants access to the entire Turrell retrospective.
Turrell's Perceptual Cells series are freestanding enclosed structures that provide an experience for one viewer at a time. In his Perceptual Cell at LACMA, Light Reignfall, the viewer enters a spherical chamber on a sliding bed. A program of saturated light (operated by a technician) surrounds the viewer for twelve minutes, so that they may experience the intense, multidimensional power of light and the complex seeing instrument of the human eye.
In Dark Matters (from Turrell's Dark Space series), the artist stresses the absence of light rather than its material presence. Dark Matters consists of an unlit corridor that leads to a sealed and darkened room. After experiencing complete blackness for a few minutes, the viewer's eyes slowly adjust, and a faint glow begins to appear from a low-wattage incandescent bulb.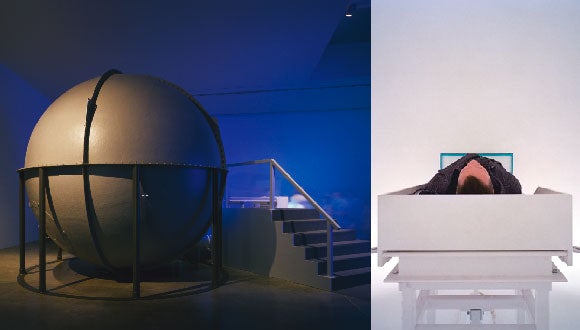 Booking an Appointment
Because of the nature of the artworks, tickets are extremely limited for Perceptual Cell and Dark Matters. Appointments are timed every 20 minutes for one person at a time. Tickets must be purchased in advance, and are currently sold out through the end of the show.

---
Ticket Prices
One Perceptual Cell and Dark Matters ticket includes admission to the rest of the James Turrell: A Retrospective exhibition and the rest of the museum.
LACMA Members      $15
General Public           $45

---
Additional Information
Participants must be 18 or over and have a valid photo ID.
Appointments are non-refundable and non-transferable. If you would like to cancel your appointment, email boxoffice@lacma.org.
Perceptual Cell is not recommended for individuals with claustrophobia, heart conditions, back conditions, a history of seizures, epilepsy, and/or sensitivity to flashing lights.
Participants thought to be unstable or under the influence of drugs or alcohol will not be permitted.
Participants must sign a waiver prior to entry. Waivers will be available onsite, but visitors are welcome to review the waiver in English (PDF | 132KB) or Spanish (PDF | 133KB) in advance.
Appointments of participants who do not arrive five minutes before their appointed time will result in cancellation.
Only one person at a time is allowed to enter the Perceptual Cell.
Participants must be able to climb six stairs in order to access this piece.
It is not possible to try the experience in advance. Please only book if you are willing and physically able to participate.
---
Checking In
Visitors are advised to arrive 30 minutes in advance of their timed entry in order to pick up tickets at the Ticket Office, walk to the Resnick Pavilion, and sign the waiver. Visitors must arrive to the Resnick Pavilion at least five minutes in advance of their timed entry or their appointment will be canceled.
---
Images: James Turrell, Light Reignfall, 2011, Gaswork, courtesy of James Turrell, Pace Gallery, and Garage Center for Contemporary Culture, Moscow, installation view at Garage Center for Contempoaray Culture, 2011, © James Turrell, photo © Florian Holzherr; James Turrell, Bindu Shards, 2010, Gaswork, Interior view, Kulturforum Järna, Sweden, 2011, © James Turrell, photo © Florian Holzherr.