LACMA Travel
LACMA TRAVEL
Premium Travel Programs
Open to Curator's Circle supporters and above, this program takes patrons to international destinations. Itineraries connect with new developments in the art world, offer insights into LACMA's collection and programs, and give participants once-in-a-lifetime opportunities to learn alongside the museum's world-class curators.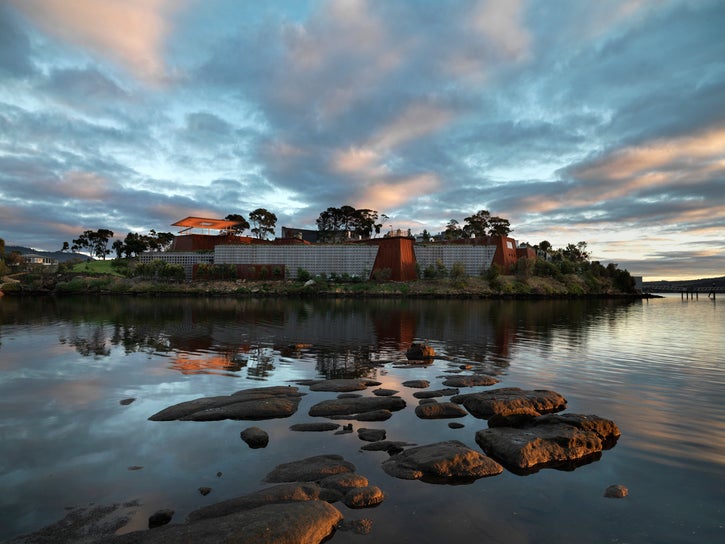 Image: MONA/Rémi Chauvin, image courtesy of MONA Museum of Old and New Art, Hobart, Tasmania, Australia
Sharon S. Takeda, Senior Curator and Department Head of Costume and Textiles, cordially invites you to explore art, architecture, and fashion through an exclusive LACMA trip to
Sydney, Tasmania, and Melbourne
Monday, April 30–Tuesday, May 8, 2018
Join LACMA's esteemed curator Sharon S. Takeda in Australia for an extraordinarily rich experience in a country abundant with internationally celebrated artists, designers, architecture, and fashion. The 8-day excursion will begin with the opening and preview of Reigning Men: Fashion in Menswear 1715–2015 at the Powerhouse Museum in Sydney. Following a few art-, architecture- and fashion-filled days in Sydney, travelers will sojourn in the Australian island state of Tasmania to visit the provocative Museum of Old and New Art. The final leg of the trip will be spent in Melbourne, which is home to several centers for aboriginal art and culture, as well as vibrant fashion and contemporary art scenes, culminating with a visit to the Yarra Valley wine country.
Cost includes: Hotel accommodations, ground transportation, meals, guides, entry to museums, performance tickets, and Economy Class air transportation: Sydney/Hobart/Auckland.
$9,960.00 per person
Single room supplement: $2,080.00
Additional highlights:
Studio visits with top designers and artists
Visits to private art collections and leading galleries
Private tours of world-renowned museums 
Performance and Dinner at the Sydney Opera House
Overnight trip to Hobart, Tasmania
Superb wine and cuisine
Deluxe accommodations 
LACMA Travel Programs
Open to supporters at the Partner level, plus members of any Art Councils, Avant-Garde, and higher, this program features domestic destinations selected to broaden participants' knowledge and understanding of international and American art.
There are additional trips in development and we will be posting save-the-dates soon.
For more information: 323 857-6592 | travel@lacma.org