Volunteer
Volunteer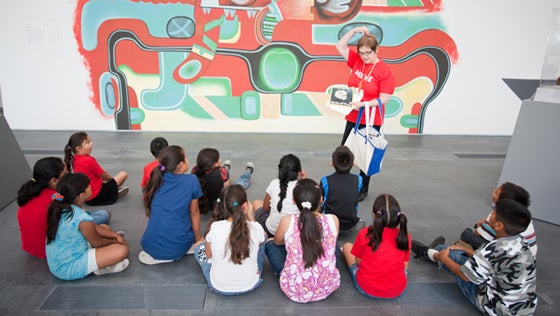 Volunteering is a unique form of philanthropy: a gift of unrestricted time and expertise to the museum. Volunteering provides a means for members to bond over shared artistic passions, and participate in group tours, lectures, receptions and travel. There are a number of ways to give of your time to help LACMA. 
Museum Service Council
The Museum Service Council provides support to museum administrative staff, curators, and educational and family programs. Our volunteers work in the libraries, the Welcome Center, and the Boone Children's Gallery, help staff Family Day activities, act as hosts for special events, and assist in the museum stores. As a benefit, council members receive special invitations to private exhibition tours, activities and lectures with eminent curators. 
New volunteers must complete a one-year training program. Applications may be obtained by calling 323 857-6101 or contacting volunteer@lacma.org.
Docent Council
Members of the Docent Council provide tours of the permanent collection and special exhibitions for children and adults. School tours for students in grades 1–12 are scheduled weekday mornings, excluding Wednesdays, during the regular school year. Public gallery tours are offered throughout the year every afternoon the museum is open. The monthly schedule of public tours can be found on the LACMA calendar.
The Docent Council is now recruiting new school tour docents.  Applications for the class of 2013-2014 are welcome and available here.
An art background is not required in order to be a docent.  Prospective docents should have an interest in learning about art, working with students and facilitating positive museum experiences for visitors.  In addition to giving tours, docents enjoy an extensive program of continuing education provided by museum curators and lectures given by other leading scholars.  Upon completion of the application and interview process, newly selected docents participate in a two-year provisional program: one year devoted to weekly training in LACMA's collection and touring techniques, and a second supervised year as a touring docent.  
For more information on the Docent Council, please review the fact sheet. 
Art Museum Council
Founded in 1952, the Art Museum Council is LACMA's first volunteer support council. The AMC supports the whole of LACMA, and has sponsored numerous special exhibitions over the years, including Gustav Klimt: Five Paintings from the Collection of Ferdinand and Adele Bloch-Bauer andRenoir to Matisse: The Eye of Duncan Phillips. It has also acquired or helped acquire some of the museum's most important works of art—including Alexander Calder's outdoor sculpture Hello, Girls; Ed Kienholz's controversial Back Seat Dodge '38; and Jackson Pollock's No. 15, among others.
The AMC provides museum members and guests an opportunity to view some of Los Angeles's finest art collections and architectural gems through its annual Art + Architecture Tour. The AMC also runs the Art Rental and Sales Gallery, which allows museum members to rent or purchase artwork for their home or office from emerging local artists.
The Art Museum Council is a working council. Prospective members are required to attend an orientation meeting prior to receiving a membership application. If you are interested in becoming a member of the Art Museum Council for the 2011–2012 membership year, which will begin in May 2011, please email your contact information to amc@lacma.org. You will receive specifics about our Prospective Membership meeting which will be held in November. More information: 323 857-6501.
---