LACMA Mobile
Find out what's on today at mobile.lacma.org!
Our mobile website may be accessed through the browser on any iPhone, iPod Touch or Android at mobile.lacma.org. It is also available as a free app through iTunes and Android Market. An internet connection is required to view the content. On campus, visitors are welcome to use our free wireless network, lacma-free-wifi, throughout the galleries.
Plan your visit to LACMA and discover current exhibitions, as well as this week's film screenings, concerts, tours, lectures and more. Reserve tickets, watch videos featuring illuminating interviews with artists and curators, and see highlights of art on view.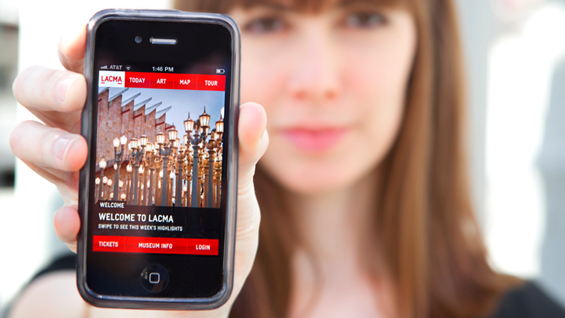 Features:
An interactive map showing the location of exhibitions and events on campus
Descriptions of exhibitions and installations currrently on view
Up-to-the-minute information about what's happening today, tomorrow and this weekend
Exclusive in-gallery content about highlights from the museum's collection
Interviews with curators and other experts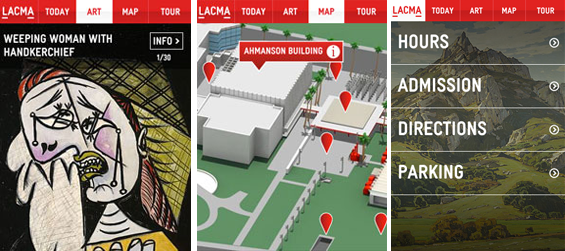 ---
Free Stanley Kubrick App
In conjunction with the exhibition Stanley Kubrick, LACMA produced this FREE app for iPhone, iPod Touch and iPad.
Features:
Exclusive interviews with directors Chris Nolan and David Slade, Kubrick collaborator Douglas Trumbull, and artist Stan Douglas about the life and legacy of Stanley Kubrick 
Production documents including scripts with handwritten notes by the director
Set photography and still photos of Kubrick at work
An interactive timeline of Kubrick's filmmaking career
A rare recorded 1965 interview with Kubrick by Jeremy Bernstein

iPhone/iPad    

Google Play for Android
---
Project-O-rators by Will Pappenheimer and John Craig Freeman
Inspired by the 20th century art collection at LACMA and the work of the Russian Constructivists in particular, Will Pappenheimer and John Craig Freeman created a site-specific augmented reality project accesible to visitors in the museum's BP Pavilion. By viewing the plaza on screen using the camera on your device, visitors can interact with constructivist-inspired 3-D shapes and architectural structures and access sound and video that reflects contemporary political events.
Here's how it works:
On your iPhone, iPad or Android device, go to http://project-o-rators.thruhere.net. You'll be prompted to install the free augmented reality app Layar. Launch Layar and search for "LACMA" to begin the experience.
-or-
Use the QR code below to install the free Layar Augmented Reality Browser and launch the project.
---
Art Swipe App by Jody Zellen
In conjunction with the exhibition In Wonderland: The Surrealist Adventures of Women Artists in Mexico and the United States, featured at LACMA January 29, 2012–May 6, 2012, artist Jody Zellen created this app for iPad and iPhone. Inspired by the "exquisite corpse" parlor game popular amongst early 20th century surrealist artists, the app allows users to create collages using images from the museum and the camera roll. 
Downloading the app requires a wifi connection. A free wifi network is available on the LACMA campus.

 for iPad or iPhone
---
California Design App
In conjunction with the exhibition California Design, 1930-1965: "Living in Modern Way" at LACMA October 1, 2011–June 3, 2012, this free app includes:
Exclusive video interviews with California designers, including Harrison McIntosh, Lou Danziger, John Kapel and Deborah Sussman
Superb high-resolution images of more than 100 highlights, including furniture, graphic design, ceramics, and fashion
An interactive map featuring notable locations in the history of California midcentury design
A behind-the-scenes description of the making of the exhibition