NexGen Programs
Arts for NexGen LACMA
Arts for NexGen LACMA is the nation's only free youth membership program! NexGen offers free general admission to anyone 17 and under as well as one accompanying adult. This includes permanent collection galleries and selected special exhibitions. To join, visit the LACMA box office or print the enrollment form and mail it in. 
---
Art Totes
The art in LACMA's collection comes from many parts of the world. Some of it was made recently, some were created more than 100 years ago, and some even thousands of years before that! Use the family-friendly activities in the LACMA Art Tote to learn more about specific works of art in LACMA's galleries. Create your own poems, learn how Ganesha lost his head, and smell some chocolate—all while learning about works of art from the permanent collection.
Borrow one from the Ticket Office today. Available in both English and Spanish.
---
Family Guides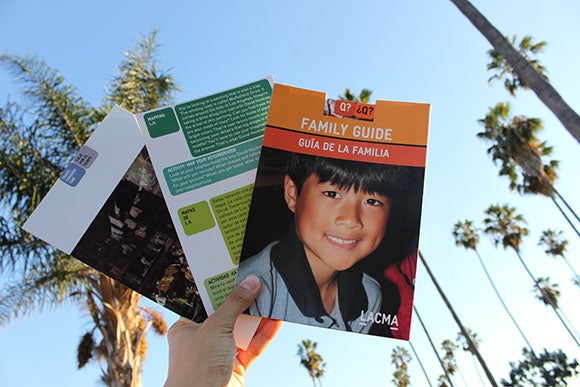 Image: © Richard Manirath
Providing parents and children a unique way to experience art at the museum, family guides feature activity cards with images and easy-to-read explanations highlighting works from LACMA's permanent collection. The guide offers parents simple questions to begin a dialogue about art with their children and lends an explorative approach to capture the imagination of kids between the ages of six and twelve years old. Your free copy to keep is available at the Welcome Center Box Office. Available in English and Spanish.

Collection Highlights
Use these eight activity cards and your imagination to travel through time and around the globe. From an Egyptian coffin to an ancient cup that was used to drink chocolate, look at the art people have created for thousands of years. Imagine how they lived. And have fun as you experience the world through art!
Costume and Textiles
Use these seven activity cards to unravel the secret life of fibers. These are materials—like thread and yarn—that are woven or sewn to make fashionable clothes, warm bedspreads, and textiles used on special occasions.  Who wore these costumes? Why did people treasure textiles? Follow the fibers and find the answers in beautiful and useful costume and textiles.
Due to LACMA's reinstallation project and rotations of art, not all works of art featured in the Family Guide are currently on view.
---
Education Department | English: 323 857-6512 | Spanish: 323 857-6504 | educate@lacma.org
NexGen Enrollment Form (English & Spanish) | (PDF: 36 KB)
E-mail Announcements | Contact us if you would like to receive emails about upcoming NexGen Programs.
Keywords:
Nex Gen, Next Gen, NextGen