The Gilbert Collection: Gold Boxes
Gold Boxes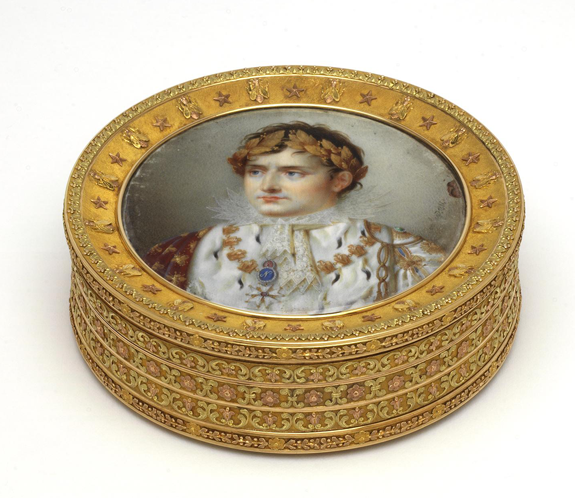 By taking a pinch of snuff from a gold box, wealthy aristocrats could signify their taste, status, and wealth in a single gesture. The display of a gold box also showcased the talents of the designers and the various craftsmen who were commissioned to create these magnificent status symbols. The Gilbert Collection includes some 220 gold boxes from France, the center of production, as well as England, Germany, Russia, and Switzerland. These small treasures are masterful examples of the luxury arts that goldsmiths, jewelers, and miniature portrait painters of the era produced. The boxes served stylish men and women admirably, as they endeavored to advance themselves in fashionable society.
The majority of the boxes were made for the functional purpose of holding snuff, or powdered tobacco. Friar Ramón Pane, who traveled to the New World with Christopher Columbus on his second voyage in 1507, was the first to note the taking of snuff. Initially overshadowed by the practice of smoking tobacco during the 16th and 17th centuries, the taking of snuff developed into an elaborate social custom during the 18th century. Gold snuffboxes—which have a tight fitting lid to ensure that the snuff within remains fresh—were an important part of this ritual that was popular throughout the courts, salons, and elite circles of Europe. In addition to serving a functional and social purpose, gold boxes were also considered a sort of fashion accessory, and were often selected to complement the owner's couture, or to mirror the attributes of the season.
Beyond possession as a personal effect, gold boxes with miniature portraits of rulers, religious leaders, and other public figures were given as diplomatic gifts or awarded in official recognition of commendable service. This miniature portrait gold box of Napoleon Bonaparte I is a stunning combination of an exquisitely rendered portrait by French painter Jean-Baptiste Isabey and a tour de force of goldsmithing by the Swiss firm Moulinié, Bautte et Moynierm, which was based in Geneva. A pupil of Jacques-Louis David (1748–1825), Isabey became one of the best-known French portraitists with a long list of commissions from the successive rulers of France, including Marie Antoinette and the Napoleonic court. Here Isabey has depicted Napoleon as an official icon, shown in the coronation regalia he wore when he crowned himself Emperor Napoleon I. Surrounded with a border of alternating stars and bees, a symbol of Napoleon's reign, the emperor wears a gold diadem, and the five-armed cross of the Order of the Legion of Honor lays against the ermine of his coronation robes. The blue pendant with an "N" that Napoleon wears is replicated with the golden "N" set on a ground of blue enamel on the base of the box, and radiating trophées d'armes composed of three different tones of gold encircle the base. Since France annexed Geneva in 1799, it would not have been unusual for a Napoleonic presentation gold box to have been made in Switzerland. 
Image: Moulinié, Bautte et Moynier, gold box, 1793–1821, Jean-Baptiste Isabey, portrait miniature, 1767–1855, long-term loan from The Rosalinde and Arthur Gilbert Collection on loan to the Victoria and Albert Museum, London