Art Camp
Art Camp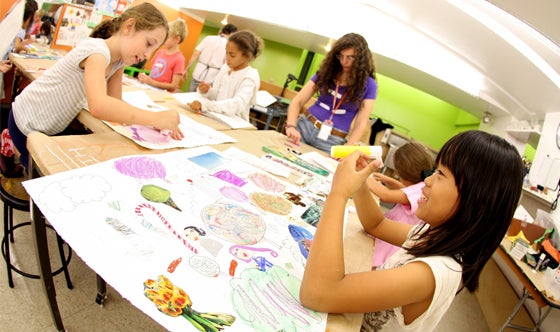 WINTER ART CAMP

Join us this winter! Campers will have fun looking at, talking about, and making art with a team of creative museum educators and artists. These workshops introduce techniques that teach campers to express themselves through drawing, painting, and mixed media. Each day includes gallery activities and the viewing of original works of art, a one-hour lunch break, and creative studio projects. Each week culminates with a mini art display of campers work!
Enrollment for Winter Art Camp opens on October 10.
---

Children Ages 6 through 9
Playing with Design, Translation, and Doubleworld | Sold Out
Monday-Friday, December 18, 19, 20, 21, 22, 10 am–3 pm 
Explore a variety of techniques and materials used in the exhibitions Playing With Fire:Carlos Almaraz, Found In Translation: Design in California and Mexico, 1915 -1985, and Sarah Charlesworth:Doubleworld. With guidance of artist Gloria Westcott, students will create a multi-layer decorative wall hanging full of texture, color, and expression using paper, paint, and ink.
Art Moves  Get Tickets
Tuesday-Friday, December 26, 27, 28, 29, 10 am–3 pm
Discover sculptures that move, sculptures that color pop, and sculptures that express creative movement. Inspired by work made by artists Alexander Calder, Joel Shapiro, and Chris Burden.  Create fun and dynamic 3-D art projects using wire, wood, paper, and other materials. With artist Shannon Green.
---

Children Ages 10 through 13
Photographic Imagery Workshop | Sold Out
Monday-Friday, December 18, 19, 20, 21, 22, 10 am–3 pm
Examine imagery and composition in photographs and learn how to create stop-motion moving images, double exposures, and a portable camera obscura. Work on individual projects as well make a group stop-motion short in this hands-on workshop led by photographer Walter Vargas.
---

Enrollment Procedures for Art Camp
Online enrollment begins on October 10. 
Registration is on a first-come, first-served basis. Space is limited; camp does sell out.
Art Camp is designed for children ages 6 and older; children ages 5 and under will not be admitted. Proof of age will be required.
Registration is only available online. 
Payment is required upon registration.
For technical help, please contact the Ticket Office at boxoffice@lacma.org or 323 857-6010. 
Logistic Information
Art Camp is from 10 am to 3 pm. LACMA does not offer extended care.
Campers must pack a lunch and snack every day to eat during supervised breaks.
Art materials and parking validation included in tuition.  
Please call the Art Camp Coordinator at 323 857-6139 for more information.
Cancellation Policy
A refund equal to half of tuition paid will be granted for cancellations made two weeks before camp start date. No refunds will be made for cancellations made less than two weeks prior to camp start date. Please notify us immediately of any cancellations so that a child on our waiting list can attend camp. Full refunds will only be granted if the program is cancelled.
---
Art Class Line | 323-857-6139 | educate@lacma.org | Sign up for Families eNews