Ken Price Jazz Playlists
Jazz has figured prominently in Ken Price's work; a student of jazz great Chet Baker, Price's seductive and lyrical sculptures draw inspiration from the perfect balance of melodic artistry and surprising improvisation in 1940s and 50s jazz. A special free concert saluting two of Price's musical influences, Chet Baker and Miles Davis, will take place on October 4, 2012. The exhibition will be open from 5 pm to 9 pm the day of the concert.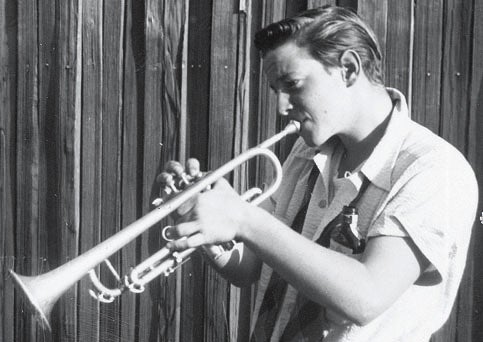 In 2011, MaLin Wilson-Powell interviewed Price about his engagement with jazz. Price recalled:
I first heard Chet Baker in 1952 playing as a sideman with Charlie Parker at the Tiffany Club. This was before the era of My Funny Valentine. Parker's band was playing tunes like Donna Lee, and Anthropology. This was a mind-blowing experience for me, and I went to hear Chet play every chance I had after that. Sometime in early 1953 I approached him between sets at The Haig, where he was appearing as part of the Jerry Mulligan Quartet, and asked if he gave trumpet lessons.  He said he didn't give lessons but told me to come by anyway.  So I started taking trumpet lessons from Chet Baker, which was an amazing experience for an 18-year-old kid.
The 'lessons' were completely informal.  He showed me some exercises, taught me some tunes that were much harder to play than I was used to (like Half-Nelson) and found me a much better trumpet too. He lived in a big apartment in the Hollywood Hills with several other musicians and I functioned as sort of a groupie.  I hung out there, he had me drive him places or just go along when he was doing something.  As for the music he showed me things by playing them on his horn.  I actually played with him twice, once with Russ Freeman on piano.  
I've spent a lot of time listening to recorded jazz and blues in my home and my studio and going with [my wife] Happy to hear it at clubs, concerts, and jazz parties.  For the last 60 years I've been through all the delivery systems for listening to recorded music, except for the 45 rpm and now I'm back to playing my old LP's which still sound the best.
Originally I recorded [mixed] tapes to make collections of music I really like.  And then I used the process as a way of learning more about the history of recorded music.  For instance, I spent almost an entire year on the music of the '40s.  I made lots of copies and gave them to people, and I often hear from people who've enjoyed them for many years.  
In conjunction with the exhibition Ken Price Sculpture: A Retrospective, the following playlists are selections from Price's originally titled mix tapes of jazz favorites. (Requires iTunes.)