Resnick Pavilion
The Lynda and Stewart Resnick Pavilion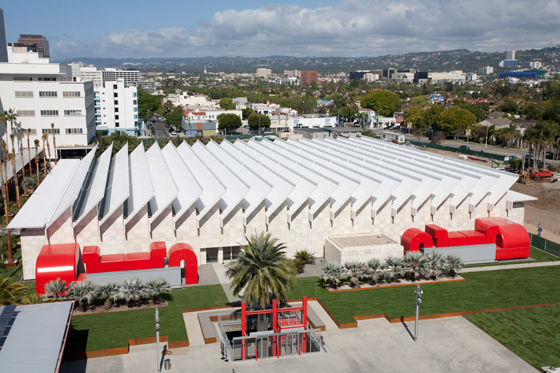 The Lynda and Stewart Resnick Exhibition Pavilion, designed by Renzo Piano, dramatically expands the museum's exhibition space and unifies the western half of the museum's twenty-acre campus. The single-story, 45,000 square foot structure is the largest purpose-built, naturally lit, open-plan museum space in the world.
The Resnick Pavilion is named in honor of long-time patrons Lynda and Stewart Resnick. Mrs. Resnick, a LACMA trustee since 1992, is currently vice chair of the museum's Board of Trustees and chair of the Acquisitions Committee. Mr. and Mrs. Resnick are leading arts philanthropists with wide-ranging charitable interests.
Robert Irwin's Primal Palm Garden installation surrounds the Resnick Pavilion. The palms, some quite rare, come in a wide variety of sizes, colors and shapes. They are set into orderly grids, articulated by Cor-ten steel walls and containers. Irwin has noted that certain cycads chosen for the site are among the first plants on earth.