NexGen Boone Children's Gallery
The Boone Children's Gallery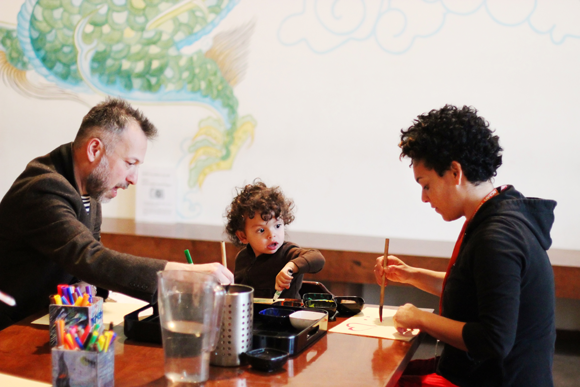 Come paint with us! The Boone Children's Gallery, located in the Hammer Building, is a place for kids and families to learn about brush painting and art from Korea and China.
Join us for Story Time every Monday and Friday at 2 pm. In the Korean art galleries, staff read Korean and Chinese folk tales and age-appropriate books on art and culture. Families are made comfortable in this gallery setting and draw connections between the art in the galleries and the art they may create in the Boone Children's Gallery. 
Admission is always free. Pick up your free ticket at the box office.
To ensure a safe and pleasant visitor experience to the Boone Children's Gallery on all Target Free Holiday Mondays, tickets will be timed and distributed on a first-come, first-served basis. Pick up your free timed ticket in the Boone Children's Gallery on the day of the event. Timed tickets allow for entry for 30 minutes.
Hours:
Monday, Tuesday, Thursday, and Friday—11 am to 5 pm
Saturday and Sunday—10 am to 5 pm
Closed Wednesdays
Children under 13 must be accompanied by an adult.
---
The Boone Children's Gallery is made possible in part by the MaryLou and George Boone Children's Gallery Endowment Fund.

Boone Children's Gallery | 323-857-6128
Learn more about programs and activities for kids and families.
Education Department | English: 323 857-6512 | Spanish: 323 857-6504 | educate@lacma.org
NexGen Enrollment Form English | (PDF: 3.28 MB)
NexGen Enrollment Form Spanish | (PDF: 3.37 MB)
E-mail Announcements | Contact us if you would like to receive emails about upcoming NexGen Programs.
Keywords:
Nex Gen, Next Gen, NextGen