Manly Pursuits: Writings on the Sporting Images of Thomas Eakins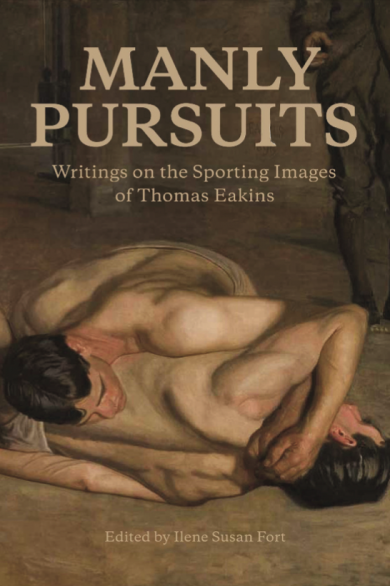 Edited and introduced by Ilene Susan Fort
A companion to LACMA's acclaimed 2010 exhibition.
Manly Pursuits: Writings on the Sporting Images of Thomas Eakins brings together a fascinating collection of fifty-six essays and commentary on Eakins's work that began during his lifetime and continues today.
This study of Eakins's sporting images, as well as his nudes and motion photographs, allows the reader to follow his artistic development as well as the public and critical reaction to his art over time: from the early reviews that regarded him as a talented, daring, and yet sometimes inappropriate artist, to the elevation to iconic status that he achieved in the years immediately following his death, to the current, more thoughtful, provocative, and pluralistic assessment of the man and his work.
Read Online
Buy the Book
More About the 2010 Exhibition
474 pages | 9 x 6 in. 28 illustrations
Contributors: Gerald M. Ackerman, Henry Adams, Adam Emory Albright, Martin A. Berger, Alan C. Braddock, Charles Bregler, Richard R. Brettell, Alan Burroughs, Bryson Burroughs, William Clark, Christina Currie, Arthur C. Danto, Whitney Davis, Charles De Kay, Thomas Eakins, Allen Ellenzweig, Philip Fisher, Kathleen A. Foster, Michael Fried, Lloyd Goodrich, Gordon Hendricks, Donelson F. Hoopes, Elizabeth Johns, Sidney Kaplan, Sylvester R. Koehler, Michael Leja, Paul Leroi, Frank Jewett Mather Jr., F. O. Matthiessen, Henry McBride, Anne McCauley, Leslie W. Miller, Mitschka, Lewis Mumford, Barbara Novak, Walter Pach, Fairfield Porter, John Rothenstein, Henry B. Rule, Lawrence E. Scanlon, Sylvan Schendler, Earl Shinn, Theodor Siegl, Carl S. Smith, James Johnson Sweeney, Mark Tucker and Nica Gutman, Mariana Griswold Van Rensselaer, Marjorie Alison Walter, Amy Werbel,  John Wilmerding, Rob Wilson.