Schools & Communities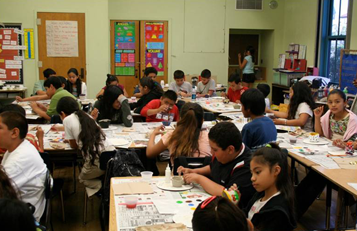 Education Department 323 857- 6512
educate@lacma.org
Schools and Communities
LACMA has a long history of engagement with schools and community organizations throughout Southern California. A variety of education programs provide hands-on activities and discussions about art in classrooms, libraries, and public exhibition spaces throughout the region. LACMA also offers on-site and multi-visit programs at the museum for teachers, students, and their families.
Multivisit Programs
Multivisit programs are designed to extend and enrich students' museum and classroom experiences. Combining discussions and hands-on studio activities, these sessions take place at the museum, or in both the museum and the classroom.

After School at the Museum Grades 3-12
In this program LACMA collaborates with local schools to introduce students to the museum and its collections. Students come to the museum one afternoon per week for eight weeks, as musem instructors facilitate observing art, lead gallery activities, and guide art workshops. Sessions are designed sequentially to build on acquired concepts and skills. Transportation to and from the museum is provided. This program is limited to LAUSD schools that are in proximity to the museum or have an early-release time one day per week. Support for After School at the Museum was provided by the Louis L. Borick Foundation, The Rosalinde and Arthur Gilbert Foundation, the Dorothy Collins Brown Charitable Foundation, and Southern California Edison. 

High School Internship Program
The High School Internship program offers a small group of students from LA-area public schools an opportunity to be introduced to the museum and its exhibitions and staff, take part in special projects, and work with exhibiting artists. Through training sessions, participants gain knowledge about exhibition and gallery teaching techniques and work on public-speaking skills. At the conclusion of their training, interns lead exhibition tours for younger students and peers. Funding for the High School Internship Program is made possible by the Winnick Family Foundation, and the Elsie Lee Garthwaite Memorial Foundation.

School Partnerships Art Programs with the Community: LACMA On-Site
LACMA continues its ongoing educational partnership with LAUSD, Compton, and Torrance Unified School Districts. Selected elementary and middle schools receive artist-led workshops, curriculum materials, and professional development opportunities. These programs and materials are designed to stimulate critical thinking, support creative expression, and provide meaningful experiences with art. These programs are made possible through the Anna H. Bing Children's Art Endowment Fund. Additional support is provided by the City of Los Angeles Department of Cultural Affairs, the Dwight Stuart Youth Fund, the Goodwin Family Memorial Trust, and the Louis and Harold Price Foundation.


Curriculum Materials
Contact
Evaluation (PDF | 9.1mb)
Libraries & Community Partners 
Join us for free family and teen workshops, led by teaching artists from LACMA. Held at the following community venues and libraries: Los Angeles Public Libraries, County of Los Angeles Public Libraries, and City of Torrance Public Libraries. Ask the Children or Young Adult Librarian to confirm the dates and times of workshops.
Find a library near you!
These programs are made possible through the Anna H. Bing Children's Art Endowment Fund. Additional support is provided by the City of Los Angeles Department of Cultural Affairs, the Dwight Stuart Youth Fund, and the Goodwin Family Memorial Trust.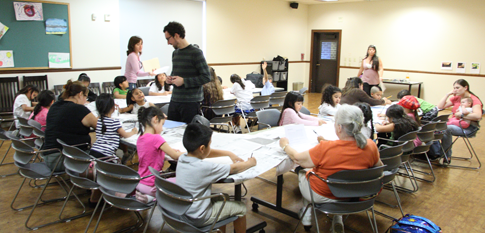 Weekly Workshops
Van Nuys Branch Library
6250 Sylmar Ave, Van Nuys 91401
818 756-8453
Families: Saturdays · 11:30 am
Teens: beginning February 2015
Katy Geissert Civic Center Library 3301 Torrance Blvd, Torrance 90503
310 618-5959
Families: coming soon

Lueders Park Community Center1500 E Rosecrans Ave, Compton 90221
310 638-4821
Families: Saturdays · 10 am
Compton Library240 W Compton Blvd, Compton 90220
310 637-0202
Teens: coming soon
Monthly Workshops
Watts Branch Library
10205 Compton Ave, LA 90002
323 789-2850
Families: Monthly

Exposition Park Regional Library 3900 S Western Ave, LA 90062
323 290-3113
Families: Monthly
Vernon Branch Library4504 S Central Ave, LA 90011
323 234-9106
Families: Monthly
Pico Union Branch Library1030 S Alvarado St, LA 90006
213 368-7545
Families: Monthly
Pio Pico-Koreatown Branch Library694 S Oxford Ave, LA 90036
323 368-7647
Families: Monthly
Felipe de Neve Branch Library2820 W 6th St, LA 90057
213 384-7676
Families: Monthly
Los Feliz Branch Library1874 Hillhurst Ave, LA 90027
323 913-4710
Families: Monthly
Quarterly Workshops
Vermont Square Branch Library
1201 W 48th St, LA 90037
323 290-7405
Families: Quarterly

Benjamin Franklin Branch2200 E 1st St, LA 90033
323 263-6901
Families: Quarterly
Seasonal Workshops
Palms-Rancho Park Branch Library
2920 Overland Ave, LA 90064
310 840-2142
Families: Summer

Memorial Branch Library 4625 W Olympic Blvd, LA 90019
323 938-2732
Families: Summer
Cypress Park Branch Library 1150 Cypress Ave, LA 90065
323 224-0039
Families: Seasonal
Central Library630 W 5th St, LA 90071
213 228-7000
Children's Literature: 213 228-7250
Teens: 213 228-7290
Families: Winter & Spring
Exhibitions
Charles White Elementary School Gallery
2401 Wilshire Blvd
Los Angeles, CA 90057
These programs are made possible through the Anna H. Bing Children's Art Education Fund.

Kaz Oshiro: Chasing Ghosts
January 24, 2014—June 6, 2014

Shinique Smith: Firsthand
February 9, 2013—July 19, 2013

A is for Zebra
December 2, 2011—March 30, 2012
L.A. Icons: Urban Light & Watts Towers
October 15, 2010—March 31, 2011

Journeys | Recorridos
December 12,2008—February 26, 2010
View the Book (PDF | 3.8mb)

SWAP
November 7, 2007—June 8, 2008
View the Book(PDF | 947mb)