Transformation Campaign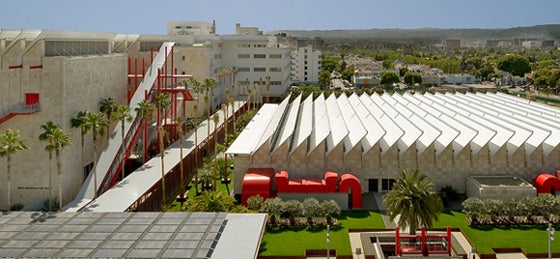 In recent years, LACMA has committed to expanding, upgrading, and unifying the museum's 20-acre campus through the addition of new buildings, monumental public artworks such as Chris Burden's Urban Light and Michael Heizer's Levitated Mass, and open-air gathering places for the community. With the opening of BCAM (2008) and the Lynda and Stewart Resnick Exhibition Pavilion (2010), both designed by Renzo Piano, LACMA added 100,000 square feet of gallery space to the campus, more than doubling the museum's exhibition space. Together, these developments have transformed LACMA into a more vibrant and accessible cultural hub that reflects the tremendous diversity, history, and creativity of Los Angeles.
Having first completed the expansion of the museum, LACMA is now focusing on replacing the four aging buildings on the east campus (the Ahmanson, Art of the Americas, and Hammer Buildings, as well as the Leo S. Bing Center) with a single structure that will house the museum's vast permanent collection, a theater, and public program, retail, and restaurant spaces. This new proposed permanent collection building is the long-anticipated culmination of over a decade of transformation.
Learn more about the proposed design for LACMA's east campus, designed by Pritzker Prize-winning architect Peter Zumthor.