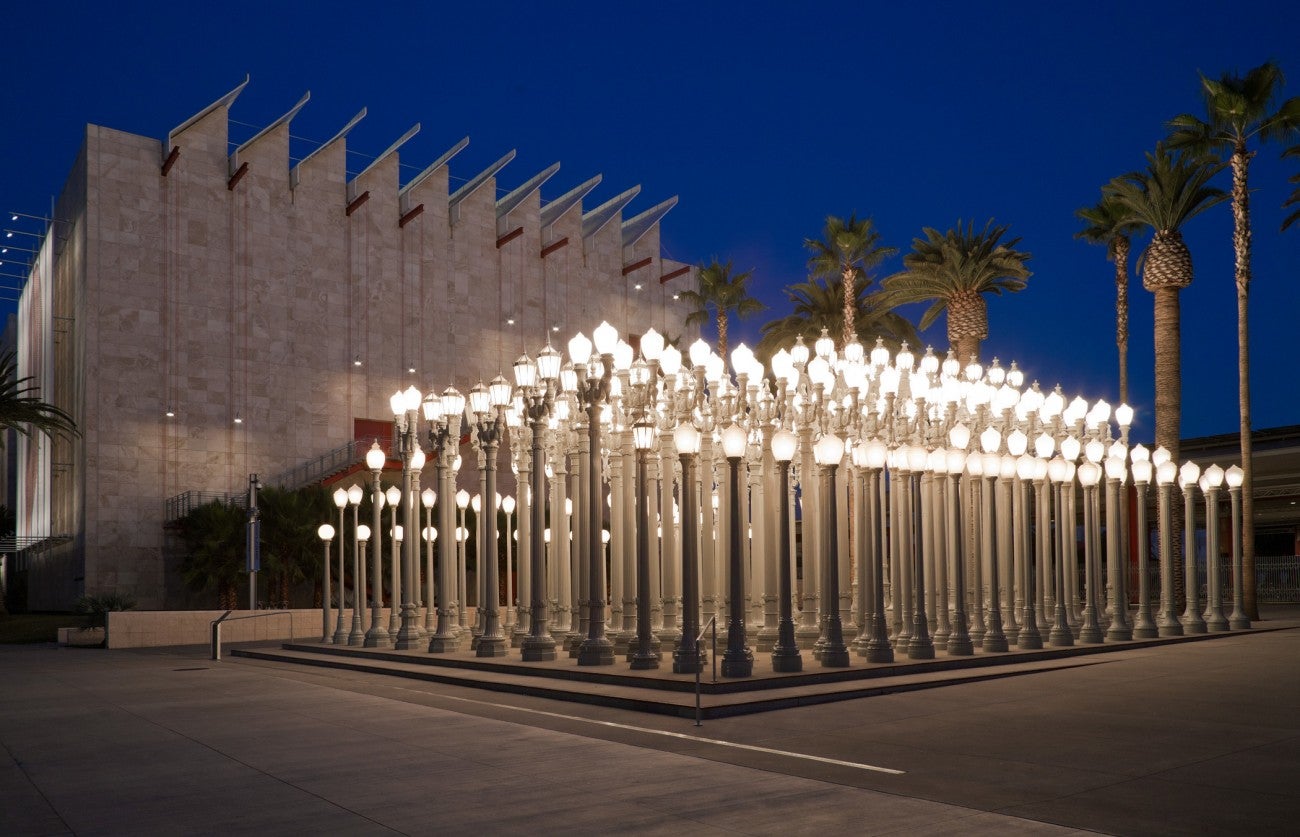 Urban Light, 2008
Urban Light
Chris Burden (United States, Massachusetts, Boston, 1946-2015)
United States, California, Los Angeles County, 2008
(Two-hundred and two) restored cast iron antique street lamps
Urban Light is made possible by Willow Bay and Bob lger, and is open 24 hours a day thanks to their generosity. Special thanks to the Brandon-Gordon family for their founding support of the 2008 installation.
M.2007.147.1-.202
This forest of city street lights, called Urban Light was created by artist Chris Burden. Despite initial appearances, the arrangement is not a perfect grid. Depending on where the viewer stands, the lamps arrange themselves in different angles and arrays. The 202 cast iron lamps once lit the streets of Los Angeles. Burden bought the first one at the Rose Bowl flea market, and soon collecting and restoring street lights became an obsession. He painted them all the same neutral gray, in order to draw the eye to all the different varieties of cast iron decoration. Burden says that street lamps like these were symbols of a civilized and sophisticated city—safe after dark and beautiful to behold. The lights all still work, and they are now powered by solar energy. They are switched on every night at dusk, and are lit until 10pm. At night, Burden says his sculpture becomes transformed into "a building with a roof of light." Since it was installed along LACMA's Wilshire Boulevard entrance in February 2008, artist Chris Burden's "Urban Light" has become "an instant landmark" [New York Times].
Audio Soundtrack Available
Since first illuminating LACMA's Smidt Welcome Plaza in 2008, Urban Light has drawn flocks of visitors to its iconic glow. The assemblage of historic street lamps perched along Wilshire Boulevard are radiant beacons that are at once L.A.-centric and universal.
This sonic offering is an extension of that luminous spirit—beaming with dynamic patterns and timeless energy, it invites listeners to bath in radiance. Just as Chris Burden carefully positioned his magnificent street lamps to brilliantly immerse those who gather amongst them, these music selections are aimed at lighting up listeners' ears.
This soundtrack for Chris Burden's Urban Light sculpture was organized by LACMA and Mark "Frosty" McNeill of @dublab a non-profit radio station exploring wide-spectrum music from around the world.