MARIA NORDMAN YANG NA 2011–PRESENT
Inter-generational inter-performative-sculpture—
With & for the maker or receiver of the image
Sunlight & contextual illumination
With black anodized movable aluminum frame.
A 24-hour work on loan to LACMA
Height of screen 279 cm.
Horizon of the two screens 741.7 cm.
Depth of the separating wall 208.3 cm.
 
In homage to John Bowsher supporting this work
From 2009–11 & earlier at LACMA—using his voice
As producer & giver of culture.
Built in continuity with Maria Nordman's
FILMROOM EAT & FILMROOM EXHALE
1967–PRESENT
Short Title
LACMA with YANG NA, 2011–PRESENT, IV: March 15, 2017
Image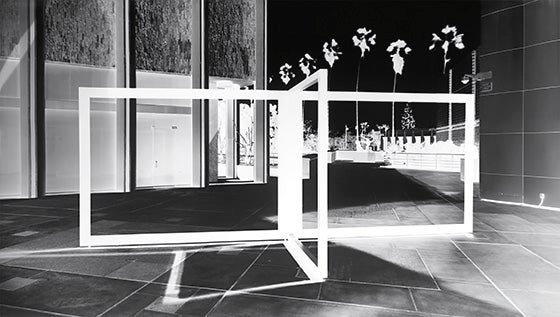 Tombstone
Collection of MGAC
© Vera Lutter