Purchase your admission Tickets in advance
We look forward to welcoming you back to LACMA. Please carefully read LACMA's enhanced health and safety measures and before proceeding to purchase your admission tickets online.
All visitors, including LACMA Members, must purchase or reserve an advance timed-entry online ticket. Tickets may not be purchased on site.
All visitors must agree to the guidelines and statements below to be able to purchase tickets.
All visitors are required to pass an on-site health confirmation screening prior to entry. Only those who pass this screening will be allowed entry to the museum.
---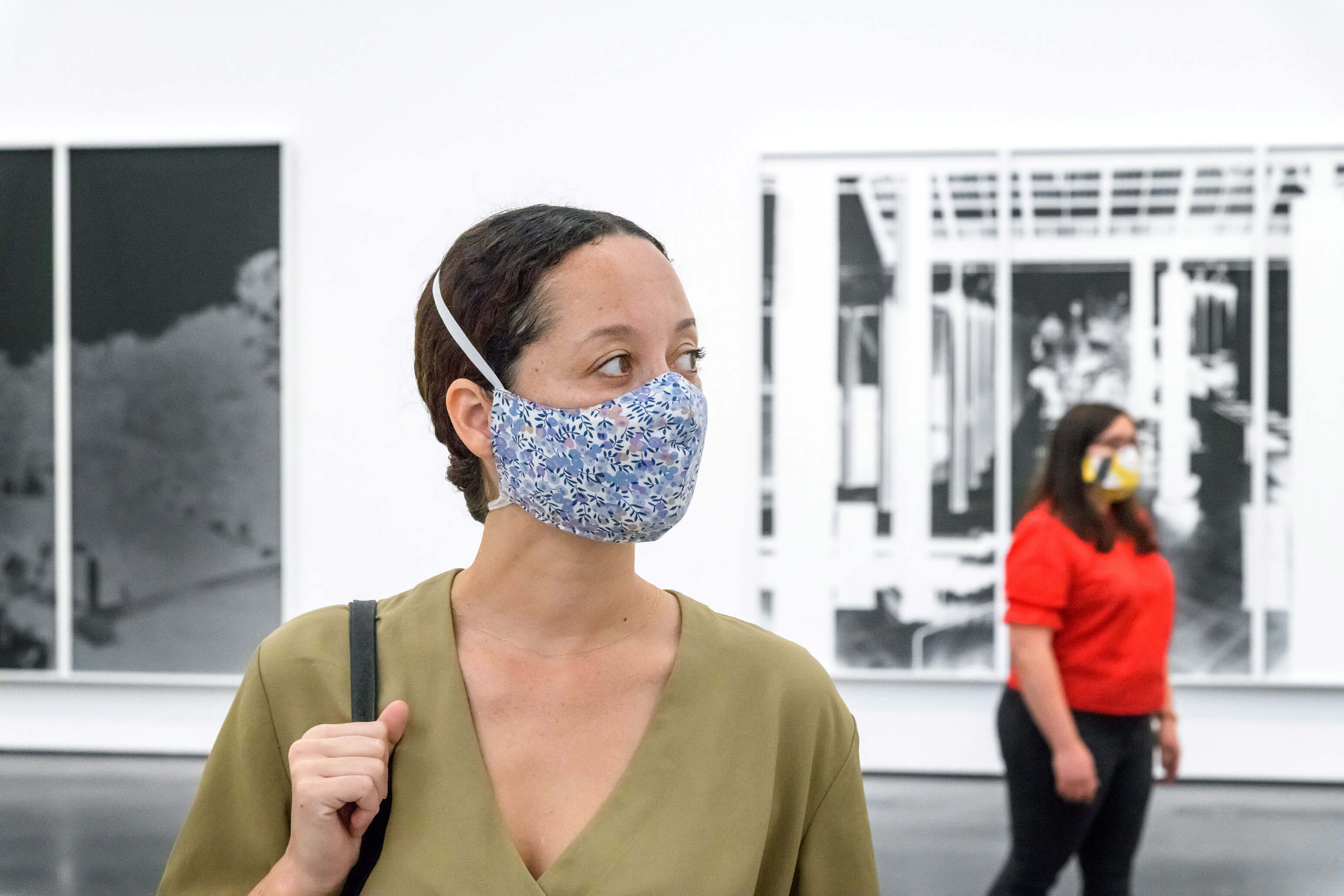 Please help us keep you and our staff safe upon your visit.
In line with the guidelines provided by the L.A. County Department of Public Health for museums, LACMA has implemented new health and safety protocols and processes to help provide the safety of our staff, volunteers and visitors. We are working hard to protect you and our staff during the pandemic and it's important that you do your part. Please follow all posted instructions and staff directions while visiting LACMA.
Failure to comply with guidelines or instruction from staff during your visit may result in you and your visiting party being asked to leave the premises without refund.
---
Stay at home if you are sick or have COVID-19 symptoms.
Please do not visit LACMA if you or any member of your party have experienced any of the following:
Have arrived from outside the State of California, from a domestic or international cruise, or river cruise in the last 10 days.
Fever of 100.4 F or higher, cough, shortness of breath, sore throat, runny or stuffy nose, body aches, headache, chills, fatigue, diarrhea, nausea, loss of smell and taste in the last 14 days.
If you come in close contact with someone who has COVID-19 or COVID-19 symptoms during the 14 days prior to your scheduled visit to LACMA, DO NOT VISIT.
---
Follow all guidelines and direction from LACMA staff.
All visitors are required to adhere to new health and safety protocols at all times which include the following:
A face covering must be worn over the nose and mouth at all times, except when eating or drinking.
This is required for all visitors over age 2 and all staff and volunteers.
Please practice good physical hygiene and wash hands frequently.
Hand sanitizer stations are located throughout the LACMA campus for your convenience.
A physical distance of at least 6 feet must be maintained from others; parties of a single household may remain together (6 people or fewer) and children must remain with supervising adults at all times.
Please bring your own wheelchair upon your visit if necessary. Wheelchairs are not currently available for loan from the museum.
All visitors are required to pass an on-site health confirmation screening prior to entry. Only those who pass this screening will be allowed entry to the museum.
Any bag that is 11 x 14 inches or larger is not permitted in the galleries. Please note that bag check is currently closed.
Additionally, we have implemented new COVID-19 safety measures at LACMA. Learn more.
Visitor capacity has been reduced and controlled through advance timed-entry tickets.

Enhanced cleaning and sanitizing of high-touch surfaces and restrooms throughout the day has been implemented; hand-sanitizing units are located throughout the campus.

Enhanced air conditioning filters and replacement frequency have been implemented.

One-way traffic paths to enter and exit buildings as well as galleries have been implemented and must be followed to allow physical distancing and enhanced safety for visitors and staff.

Physical distancing visual guidelines have been placed in galleries and on the entrance queue.

Water fountains have been closed.

All public programs (tours, talks, film, concerts, art classes or any activity or program that includes a large gathering) have been cancelled on campus, in line with local government orders.

The Boone Children's Gallery is closed.
---
Be aware of the inherent risks of COVID-19 exposure in public places.
COVID-19 is an extremely contagious disease that can lead to severe illness and death. According to the Centers for Disease Control and Prevention, senior citizens and visitors with underlying medical conditions are especially vulnerable.
---
If requested, cooperate with any contact tracing efforts.
Participation in contact tracing is an important part of controlling the spread of COVID-19.
For 14 days following your visit to LACMA, please contact LACMA at publicinfo@lacma.org should you or anyone in your party test positive for COVID-19 or experience any COVID-19 symptoms.
---
---