Samurai: Japanese Armor from the Ann and Gabriel Barbier-Mueller Collection
October 19, 2014–February 1, 2015
Travel back in time and discover remarkable objects that illuminate the life, culture, and pageantry of the samurai, the revered and feared warriors of Japan. The Samurai Collection of Ann and Gabriel Barbier-Mueller, one of the finest and most comprehensive collections in the world, presents a treasure trove of battle gear made for high-ranking warriors and daimyo (provincial governors) of the 14th through 19th centuries. The exhibition illustrates the evolution of samurai equipment through the centuries, featuring more than 140 objects of warrior regalia, with full suits of armor, helmets and face guards, weapons, horse trappings, and other battle gear.
During the centuries covered by the exhibition, warfare evolved from combat between small bands of equestrian archers to the clash of vast armies of infantry and cavalry equipped with swords, spears, and even matchlock guns. Arms and armor were needed in unprecedented quantities, and craftsmen responded with an astonishingly varied array of armor that was both functional and visually spectacular, a celebration of the warrior's prowess. Even after 1615, when the Tokugawa military dictatorship brought an end to battle, samurai families continued to commission splendid arms and armor for ceremonial purposes. Because the social rank, income, and prestige of a samurai family were strictly determined by the battlefield valor of their ancestors, armor became ever more sumptuous as the embodiment of an elite warrior family's heritage.
The exhibition is accompanied by a fully-illustrated catalogue with essays by some of the leading Japanese samurai armor experts. Buy the catalogue.
Public ticketing opens October 8, 2014.
Members-only priority ticketing is now open. Reserve today.
September 3 | Ticketing opens to Director's and Curator's Circle
September 10 | Ticketing opens to Avant-Garde, Friend-level members and above
September 17 | Ticketing opens to all membership levels
Members see this exhibition for free. Join now.
Organized by the Ann & Gabriel Barbier-Mueller Museum, Dallas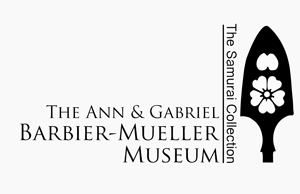 Image: Kiyotoshi,  Munekiyo, Ryūsuiken, Tengu tōsei gusoku armor, Japan, Late Edo period, 1854, © The Ann & Gabriel Barbier-Mueller Museum, Dallas. Photography: Brad Flowers.