Modern and Contemporary Art Council (MCAC)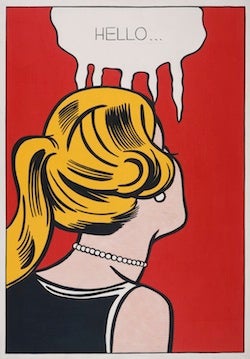 The Modern and Contemporary Art Council (MCAC) supports acquisitions for LACMA's Modern and Contemporary Art departments. Since its founding over 50 years ago, the MCAC has been the premier educational and social organization for collectors and admirers of international modern and contemporary art, and historically, the council dues have been the only continuous source of support for contemporary art acquisitions at LACMA. The council's patronage is truly the cornerstone of LACMA's contemporary art holdings.
LACMA's Modern art collection features strong holdings in German Expressionism and important paintings and sculptures by Picasso, Matisse, Schwitters, and Magritte. Important additions have included David Bright's bequest of 23 paintings by Picasso, Léger, Pollock, Rothko, and others; gifts over time from Michael and Dorothy Blankfort including important pieces by de Kooning, Yves Klein, and many others; Robert Halff's donation of 35 works, including remarkable examples by Miró, Lichtenstein, and Johns; and the recent acquisition of the Janice and Henri Lazarof Collection, with works by Picasso, Giacometti, Brancusi, Leger, Matisse, Braque, Moore, and Hepworth.
LACMA's collection of contemporary art contains almost 2,000 works from across the Americas, Europe, and Asia, created between 1968 and the present. A diverse range of media is represented including painting, sculpture, installation and conceptual art, photography, drawings, video, and film.
Council programs include educational and informative conversations and walkthroughs in galleries, private homes, and at the museum with renowned and emerging artists and noted critics, and an exceptional culturally-focused national travel program with exclusive private museum tours.
MCAC is led by Stephanie Barron, senior curator and department head of Modern Art, Carol S. Eliel, curator of Modern Art, and the curators of the Modern and Contemporary Art departments.
Want a deeper connection? Consider joining an Acquisitions Group. 
Image: Roy Lichtenstein, Cold Shoulder, 1963, Los Angeles County Museum of Art, gift of Robert H. Halff through the Modern and Contemporary Art Council, © Estate of Roy Lichtenstein