The Gilbert Collection: Pietre Dure
Pietre Dure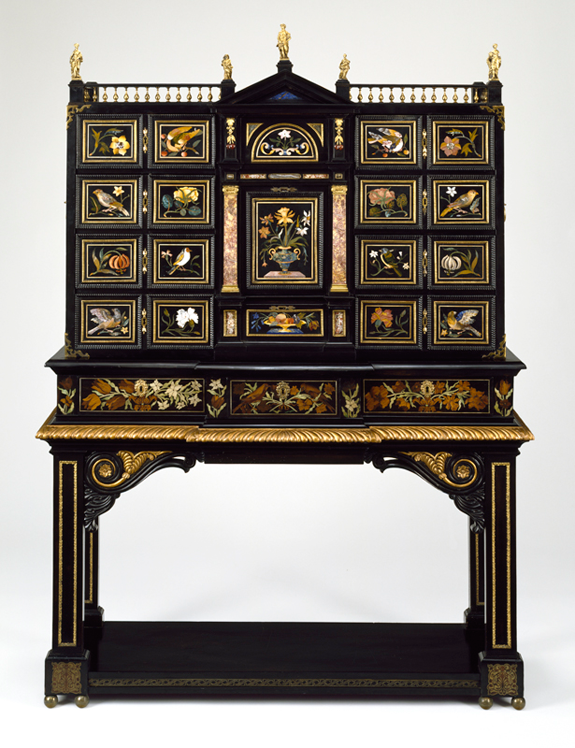 Sir Arthur Gilbert's discovery of micromosaics, works made mainly in Rome from small pieces of glass, led to an interest in pietre dure (hard stones), decorative designs formed by fitting semiprecious stones together so tightly that the seams are barely visible to the eye. Although Florence was the 17th-century center of production for pietre dure pieces, the art form descended from ancient Roman floor and wall mosaics. Gilbert pursued both forms of Italian mosaics in tandem, ultimately amassing a collection of more than three hundred micromosaics and pietre dure pieces, including secular and ecclesiastical furniture, plaques, architectural elements, jewelry, snuffboxes, and other works of decorative art.
Pietre dure techniques were revived and advanced in Rome during the 16th century, and the antique mosaics unearthed during archaeological excavations of the era were a rich source for the polychrome marbles that were admired for both their beauty and ancient heritage. Pietre dure emerged as a refined art form, and during the 17th century the technique moved to the forefront of European decorative arts under the patronage of the Florentine Medici family. In 1588, Ferdinando I de' Medici established the grand ducal manufacturer of works, Galleria dei Lavori, which was renamed the Opificio delle Pietre Dure during the mid-1800s and is still active in Florence. Generations of the Medici family patronized the Galleria dei Lavori, which was a fervent center of production employing an amalgamation of artists, goldsmiths, jewelers, cabinetmakers, ebonists, and bronze casters, who labored together to produce elaborate creations for the grand ducal family. The artisans crafted remarkable pieces of pietre dure that garnered praise not only within the ranks of the Galleria dei Lavori and Italy, but also on an international level. While the baroque painter combined rich oil paints to create sometimes-impermanent images on the canvas, the pietre dure artist looked to the abundant palette of semiprecious stones to laboriously create a virtually permanent image.
Created in the grand ducal workshops during the third quarter of the 17th century, this pietre dure cabinet in the Gilbert collection features 19 panels with birds and flowers, some so realistically rendered as to be an identifiable species. Pietre dure artists also looked to the façades and interiors of grand Baroque architecture as an earthly reality that could be converted into a microcosm of architectural artifice worthy of marvel. The distinctly architectural form of the cabinet features a central door flanked by two pilasters of brocatelle marble with gilt bronze Ionic capitals and bases that crown a triangular pediment and gilt bronze balustrade with figures representing the four seasons. Daniel Finch (1647–1730), the second earl of Winchelsea and Nottingham, was thought to have purchased the cabinet while on a Grand Tour from 1665 to 1668. This extended journey through the ancient and modern sites of continental Europe was considered essential to a cultured man's education. Often, cabinets like this one were shipped from Italy to England, where the owner would have a stand constructed for its display. The 19th-century ebonized stand of this cabinet incorporates Dutch-style naturalistic marquetry of exotic woods and ivory. With its many locking drawers and compartments, the cabinet and its stand were made to house valuable personal possessions.
Image: Grand Ducal Workshops (Galleria dei Lavori), manufacturer, Florence, Italy, 1588 to present, Cabinet, c. 1650–75, long-term loan from The Rosalinde and Arthur Gilbert Collection on loan to the Victoria and Albert Museum, London