Members
Membership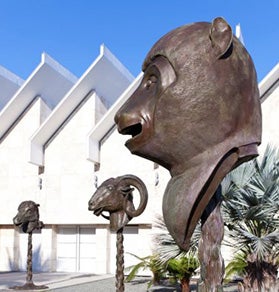 Ai Wei Wei
Students discover how art can tell stories about different people, times, and places, and learn how the basic elements of art create a visual language. Art Tells a Tale encourages observation skills while enhancing vocabulary and oral-presentation skills. This tour is aligned with state content standards for history/social science for grades 2 and 4 and language arts for grades 2.
See It First
Members see it first! View select exhibitions before they open to the public during Member Previews.
Discounts
As a member at the individual level and above, save 30% for up to two admission guest tickets every time you visit LACMA. Plus, enjoy 10% off food and non-alcoholic beverages at Ray's & Stark Bar. (valid for dinner-only)
LACMA Membership | 323 857-6151
Members Only
Download the Mobile Member Card, an app that replaces traditional plastic cards.
Holiday Hours: Visit the west campus galleries in BCAM and Resnick from 10–11 am, December 26–29 for exclusive Member Mornings. LACMA will also be open to the public on Wednesday, December 27, 2017 and Wednesday, January 3, 2018 from 11 am to 5 pm.
Visit after-hours during Member Monday on December 18.
Go Green! Enroll in auto renewal, opt out of printed member publications, and update your email address.
Read Connect, the member newsletter.
Member FAQs