A Mural Remixed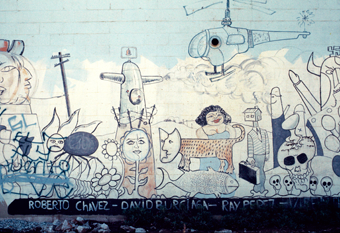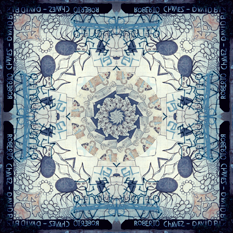 In 1972 artist Roberto Chavez painted the anti-war mural show above, left, in East Los Angeles. Porque Se Pelean? (Why Do They Fight?) depicts war using cartoonish weaponry, surreal figures and animals, and skulls alongside anthropomorphic flowers. Beneath the imagery he signs his name as well as those of the local youths who watched him paint (and who might otherwise have tagged his mural).
Almost four decades later, Sandra de la Loza discovered a slide of this mural in the Nancy Tovar Collection at the UCLA Chicano Studies Research Centre during her own research on Chicano muralism. The image stood at the intersection of the more canonical didactic work produced by Chicano art groups and the often overlooked decorative, landscape and psychedelic murals painted by local residents. Using a kaleidoscopic program, she animated the image, turning it into an arabesque design and an image machine, borrowing and mixing the older visual elements to create something new. Her "remix" is seen above, at right.

Adapted from the essay The City of Dreams...and Shoes: Chon A. Noriega on Chicano Art.
Images: Left: Detail of Porque Se Pelean?, by Roberto Chavez, 1972. The mural was painted on the Simons Roofing building at Eastern and Floral in East Los Angeles. The artist added names of local youth who watched him paint. © Sandra de la Loza. Right: Sandra de la Loza, study for Raza Mural Remix installation, 2010. Digital file. © Sandra de la Loza.