History of the Gilbert Collection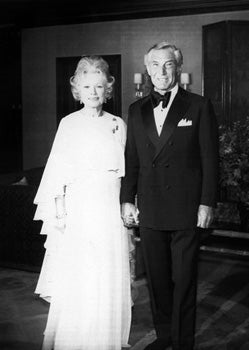 Two momentous beginnings marked the mid-1960s: the opening of the Los Angeles County Museum of Art (LACMA), and Rosalinde and Arthur Gilbert's first acquisitions for what would become an unparalleled collection of over eight hundred pieces of decorative art. Although the Gilbert Collection now resides at the Victoria and Albert Museum in London, where both Arthur and Rosalinde were born, it was in Los Angeles that the Gilberts formed their incredible assembly of objets d'art.
Arthur and Rosalinde met in London in 1930 and married in 1934, and Arthur (who had been born Arthur Bernstein) took his wife's surname of Gilbert, under which the couple began a dressmaking business. It was a runaway success and the couple was able to retire after only fifteen years, moving to Los Angeles in 1949.
Plans for retirement in sunny southern California soon gave way to Arthur's growing interest in commercial real estate development, and investment in properties in post-war London would serve as a model for future successes in America. After coming to California, Arthur developed a wide portfolio of property in and around Los Angeles, and soon expanded the business to include industrial facilities as well as numerous retail projects.
For their own home, the Gilberts purchased a Tudor revival house that was originally built for a silent movie star, and Arthur intended to decorate it with sixteenth-century furnishings. His interest in antiques may have originated during a visit to his brother William, who renovated a sixteenth-century English country house. Soon after, the Gilberts wanted to build a house of their own, and in 1961 they purchased a three-acre hilltop lot in Beverly Hills. The Gilberts now began to regard their acquisitions of art not only as sumptuous objects to furnish their new home, but also as a way to transform Arthur's financial achievements into a collection that represented the accomplishments of craftsmen throughout history. Arthur said, "To me, making money just for the sake of making money doesn't make any sense. So I evolved into a collector."
Arthur frequented local antique stores and auctions, and purchased works by renowned London silversmiths Paul de Lamerie and Paul Storr. Quick to realize the potential for errors in judgment after a purported de Lamerie acquisition turned out to be a fake, Arthur was determined to learn all he could about the objects he desired. He sought the expertise of well-known dealers in New York and London, but even so Arthur strongly believed that collectors should purchase pieces to which they are personally drawn, rather than solely using the potential value of an object or the opinions of experts as a basis for acquisition.
The Gilberts' initial interest in silver pieces burgeoned into other areas of collecting, and an unexpected discovery initiated a new focus for their collection. While Arthur was visiting an auction house in Los Angeles, he admired a framed image that he assumed to be rendered in oil paint, only to discover upon closer inspection that the composition comprised thousands of tiny, painstakingly positioned pieces of glass known as tesserae. That Roman mosaic was the inaugural purchase for an incomparable collection of micromosaics, a term Arthur himself coined.
Continuing to expand their collecting activities, the Gilberts' collection grew to encompass other art forms, including Pietre dure (another form of Italian mosaic, crafted using pieces of semiprecious stones fitted together to form an image), gold snuffboxes and enameled portrait miniatures. It is the silver collection, however, that is the most culturally, chronologically, and functionally diverse. Spanning from the third millennium BCE to the late nineteenth century, the collection includes European, South American, and Indian works that were commissioned for domestic, religious, ceremonial, and commemorative purposes.
Over the years, the Gilberts' objective transformed from simply purchasing antiques for their own enjoyment, to a more philanthropic mission of amassing an extraordinary collection for the public to appreciate. Arthur stated in a local TV interview, "I was collecting for the public." When pressed as to whether that was "really in his head," Arthur resolutely replied that after several years of collecting, "I had decided that this should belong to the public and I still collected."
Arthur and Rosalinde began collaborating with the Los Angeles County Museum of Art in the early 1970s, working together to present several exhibitions featuring works from their collections between 1975 and 1991, which also traveled to other cities in the United States. As the relationship with the museum developed and the collection outgrew the Gilberts' home, Arthur was appointed a museum trustee and plans were made to create two permanent galleries in the Ahmanson Building to display the silver and mosaic collections.
Arthur claimed that going to LACMA was "one of his greatest pleasures" and he thoroughly enjoyed engaging with people in the Gilbert galleries, avidly reading the many comment cards that visitors submitted. He was especially keen to educate museum visitors about the remarkable attributes of micromosaics - while narrating a LACMA video presentation of his collection in 1996, Arthur said, "I spend most of my time at the museum while I am there in the mosaic gallery, because I want people to know what they are looking at."
But the ideas and plans of Arthur and LACMA were diverging, and an expanded display of the collection sadly did not come to fruition. To the dismay of the museum and its many visitors, Arthur decided to return his collection to the country of his birth. Now residing in new galleries that opened at the Victoria and Albert Museum in 2009, Arthur permanently gifted and loaned the collection to Britain in 1996. After Rosalinde's death in 1995 Sir Arthur Gilbert remarried in 1997, and together with Lady Marjorie Gilbert, continued to collect enthusiastically until his death in 2001. Lady Marjorie Gilbert currently lives in Los Angeles and has generously given and loaned some of those later purchases, including some of Arthur's favorite pieces, to LACMA.
A substantial portion of the Gilbert fortune was given to The Rosalinde and Arthur Gilbert Foundation, based in Los Angeles, to continue charitable endeavors for communities in California and Israel. In keeping with Sir Arthur's belief that the citizens of Los Angeles had always appreciated his incredible collections, The Trustees of the Gilbert Foundation, Lady Marjorie Gilbert, the Victoria and Albert Museum and the Gilbert Trust for the Arts, London, have made it possible for part of the incomparable Gilbert Collection to return to LACMA so that museum visitors can experience and enjoy it once again.

Elizabeth A. Williams
Marilyn B. and Calvin B. Gross Assistant Curator
Decorative Arts and Design

Image: The Bancroft Library, University of California, Berkeley, California