NexGen Fast Facts
NexGen Fast Facts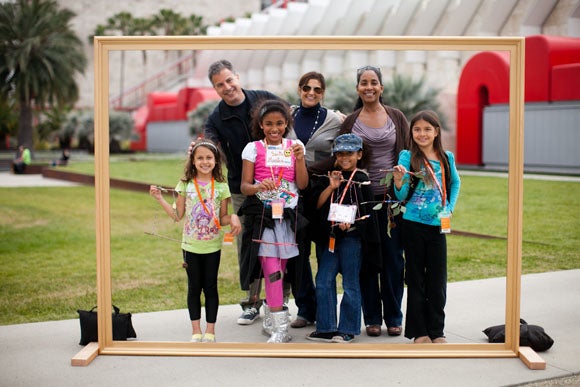 Arts for NexGen LACMA is a free youth membership for anyone 17 years and younger. As NexGen members, kids and teens can make the museum a regular part of their lives. Visit the museum for free anytime and bring one adult guest for free general admission. Enroll in person at the museum or by mail.
Arts for NexGen LACMA es una  membresía gratuita dirigido a todos los menores de 18 años de edad. Como miembros de NexGen los niños y adolescentes pueden convertir el museo en parte regular de sus vidas. Visita el museo gratis en cualquier momento y trae contigo a un invitado adulto que podrá beneficiarse de una admisión general gratuita. Inscríbete en el museo o por correo.
---
There are over 209,000 NexGen members to date! We are excited to have so many members and hope you will visit often.
What is general admission?
General admission includes collection galleries and most temporary exhibitions, with the exception of specially ticketed exhibitions. To visit specially ticketed exhibitions for free, among other benefits, adults may become members at higher levels. Kids are always free.
How much does NexGen cost?
Free to join; free to visit!
What's the catch?
LACMA values families and the community. This is your museum—there is no catch.
Who can join?
Anyone ages 17 and under, including babies. 18 year olds and over can join LACMA at the right level, beginning at just $30 a year for students.
Even babies can join?
Yes! Life long love of museums starts now.
How do we join?
You can sign up on site or fill out this form [PDF: 3.28 MB] with your child's name and date of birth. Include your address and email and we'll send you invitations to NexGen programs. If your child is under 13, a parent or guardian needs to sign the form.
How do we renew?
No need to renew. Your card is good until you turn 18. When you turn 18, consider Student or Individual level memberships for even more benefits.
I lost my card!
No problem. Call the Education Department (323 857-6512), email educate@lacma.org, or get a new card at the Boone Children's Gallery.
But we don't live in LA…
That's okay! NexGen wants all children to feel welcome and a part of LACMA. Everyone is invited to join.
Can teens come by themselves?
Ask your parent or guardian—but kids ages 13 and older are allowed to be at the museum by themselves. Bring your friends!
Tips For Families
Here are some tips for visiting the museum with kids:
Don't try to see everything. 20 minutes to one hour is plenty of time in the galleries. Remember, with NexGen you can come back as often as you like!
Let your child decide what to see. Ideas may come from their favorite things, hobbies, or a school project.
Not sure where to start? The modern art galleries on the 2nd floor of the Ahmanson Building are spacious, playful, and fun for families. Also try traveling the globe by visiting art from all over the world!
Have a seat—sit on the floor! (Just don't block any doorways.) Some galleries also have benches.
Look then ask. Start with, "What do you see?" Children are observant and wonderful storytellers. Let them tell you what is going on.
Burn off some wiggly energy in LACMA's sculpture gardens and park spaces.
Visit the Boone Children's Gallery. The welcoming staff will invite you to paint, read books, and hang out. Open until 5 p.m.
Make art and go on a tour at Andell Family Sundays—nearly every Sunday from 12:30 to 3:30 p.m.
Relax, have fun and enjoy the moment!
Logistics
Parking—the easiest parking for families is in the underground Pritzker Parking Garage on 6th Street at Ogden ($12) or street parking on 6th Street where the meters are free on Sundays!
Eating—Keep your energy up with lunch or a snack outside on the plaza or in the park. The LACMA Café has a kid's menu.
Bathroom breaks. The best bathrooms for families are in the Ahmanson Building 1st level and the plaza-level Art of the Americas Building.
NexGen members pick up their free tickets at any box office.
Before entering the galleries:
Talk about the rules. At school and at home we have rules. Museums are no different.
We can't touch the art. Touching art harms it; keep one adult arm length away.
Photography, with no flash, is allowed in some galleries. Ask the gallery attendant first.
Drawing or writing with pencil is allowed (not pen) and can be a fun in-gallery activity.
Talking about art is wonderful—using inside voices.
Walk. Save the running and jumping for the park!
Eating is only allowed outside. Have a snack on the plaza or grab something from Plaza Café.
NexGen encourages making LACMA a regular part of kids' lives. In making short visits often, the museum stays fresh and fun but also becomes a place of familiarity and comfort.