Conquest and New World Orders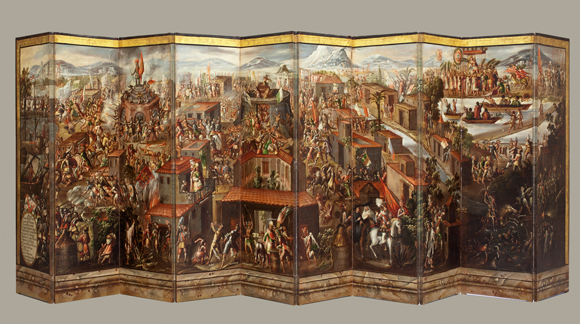 The dramatic meeting of the Mexica emperor Moctezuma and the Spanish conquistador Hernán Cortés in 1519 prompted generations of artists and writers on both sides of the Atlantic to recall the collision of two cultures that culminated in the fall of Mexico-Tenochtitlan. No other event in the early history of the Americas captivated the collective memories of so many different groups of people. The images and texts that were created reveal a range of competing views of this pivotal event.
Spaniards emphasized the peaceful transference of rule from Moctezuma to Cortés, blaming Moctezuma's own people for his death. A Nahua artist of the famous Florentine Codex, in turn, depicted two Spaniards casting the body of the deceased ruler into a lake. Other indigenous authors recalled the bloodshed of the event and the dissolution of their own ways of life, or they emphasized their roles as allies of the Spaniards in order to curry favor. In contrast, prominent Creole intellectuals emphasized the grandeur of Mexico's ancient past to endow the place with a classical pedigree comparable to that of ancient Greece or Rome.
During the seventeenth and eighteenth centuries, the depiction of local types gained momentum as a way to showcase the evolving social order under Spanish rule. 
Exhibition Home Page The Devotional Landscape and the Indian as Good Christian
---
Image: Folding Screen with the Conquest of Mexico, Mexico, late 17th century; oil on canvas; 10 panels, overall: 82 11/16 x 220 1/2 in. (210 x 560 cm). Collection of Vera Da Costa Autrey.