Artists Respond
Artists Respond is an ongoing series of web-based creative projects by artists responding to exhibitions and collections on view at LACMA.

Elena Dorfman | Ryan Griffis | Steve Roden | Antonio Mendoza | Fredrik Nilsen | Joe Biel | Will Pappenheimer & John Craig Freeman | Yucef Merhi | Anthony Lepore | Jody Zellen | Michael Trigilio | Marisela Norte |
---
Elena Dorfman, Bell Avenue, 2014, from the series, Los Angeles, River.
Chromogenic print
50 x 37 inches
© Elena Dorfman, all rights reserved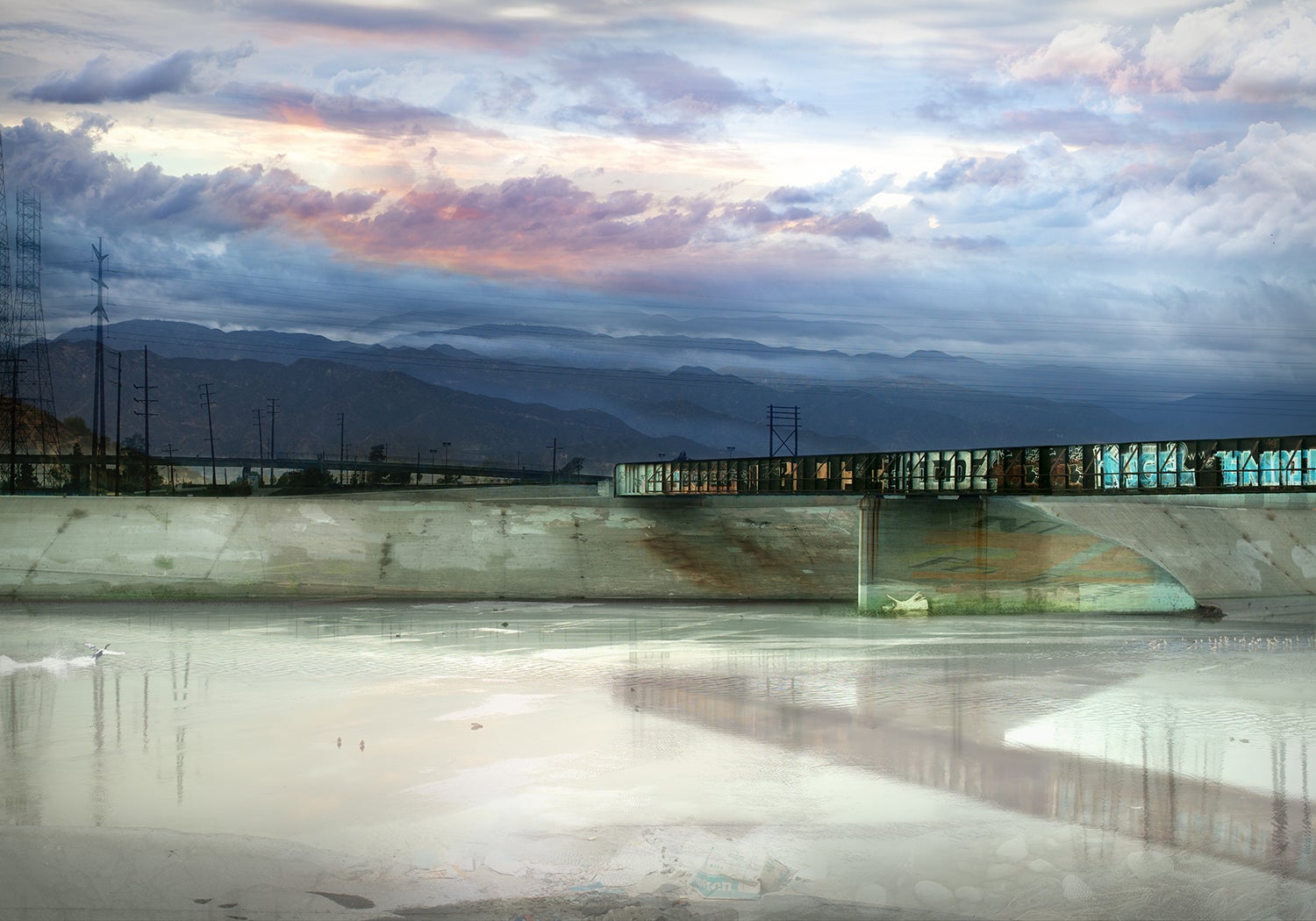 Artist Elena Dorfman chose Nature and the American Vision: The Hudson River School, as her point of departure, and, in particular, Thomas Cole's painting The Course of Empire: The Savage State, part of his five-part series, The Course of Empire. The paintings, made between 1833 and 1836, chronicle the rise and fall of an imaginary city, and serve as an allegory for the cyclical progression of civilization from a state of barbarism through advanced social and cultural development, and eventual descent into ruin. Dorfman shares her thoughts on her own work and the legacy of the Hudson River School painters in this extended interview.
---
Ryan Griffis, Becoming Movable—A Motif-Rhythm Tour of Property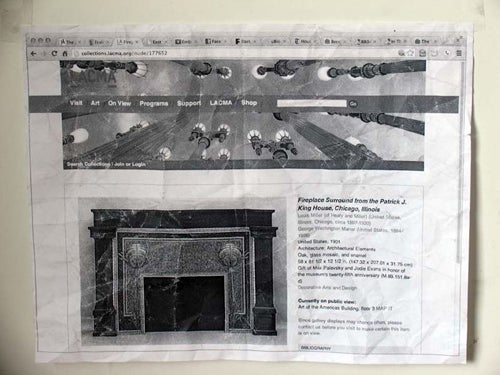 Via his Temporary Travel Office, artist Ryan Griffis performs projects that re-imagine the spaces of tourism. Responding to the Fireplace Surround from the Patrick J. King House, Chicago, Illinois he created Becoming Movable—A Motif-Rhythm Tour of Property. In studying the artifact's history and its many associations, Griffis provided LACMA a wealth of ephemera that rivaled the artifact's provenance on file. A link to Ryan's project is now part of the record for the fireplace mantle on our new collections website.

---
Steve Roden, Soundtracks for "Ghosts Before Breakfast" by Hans Richter
In conjunction with the exhibition Hans Richter: Encounters, artist Steve Roden is creating a series of sountracks for the Richter film "Ghosts Before Breakfast" (the original soundtrack was destroyed by the Nazis). See the full project, including Roden's evolving journal describing the process.
First installment, June 17, 2013:
---
Antonio Mendoza and Jimpunk,  Dysleksic
Inspired by the exhibition Drawing Surrealism, Los Angeles-based Antonio Mendoza and an anonymous French artist known as jimpunk creating a collaborative project fcalled Dysleksic.  The two artists are contributing to an evolving Tumblr mashup titled Dysleksic that juxtaposes random images culled from the internet in a dynamic ongoing collage. Both artists use the tools of data culture to present disruptive experiences with a quality of randomness that is also evident in surrealist practices such as frottage and exquisite corpse drawings. More about the project here. View Dysleksic here.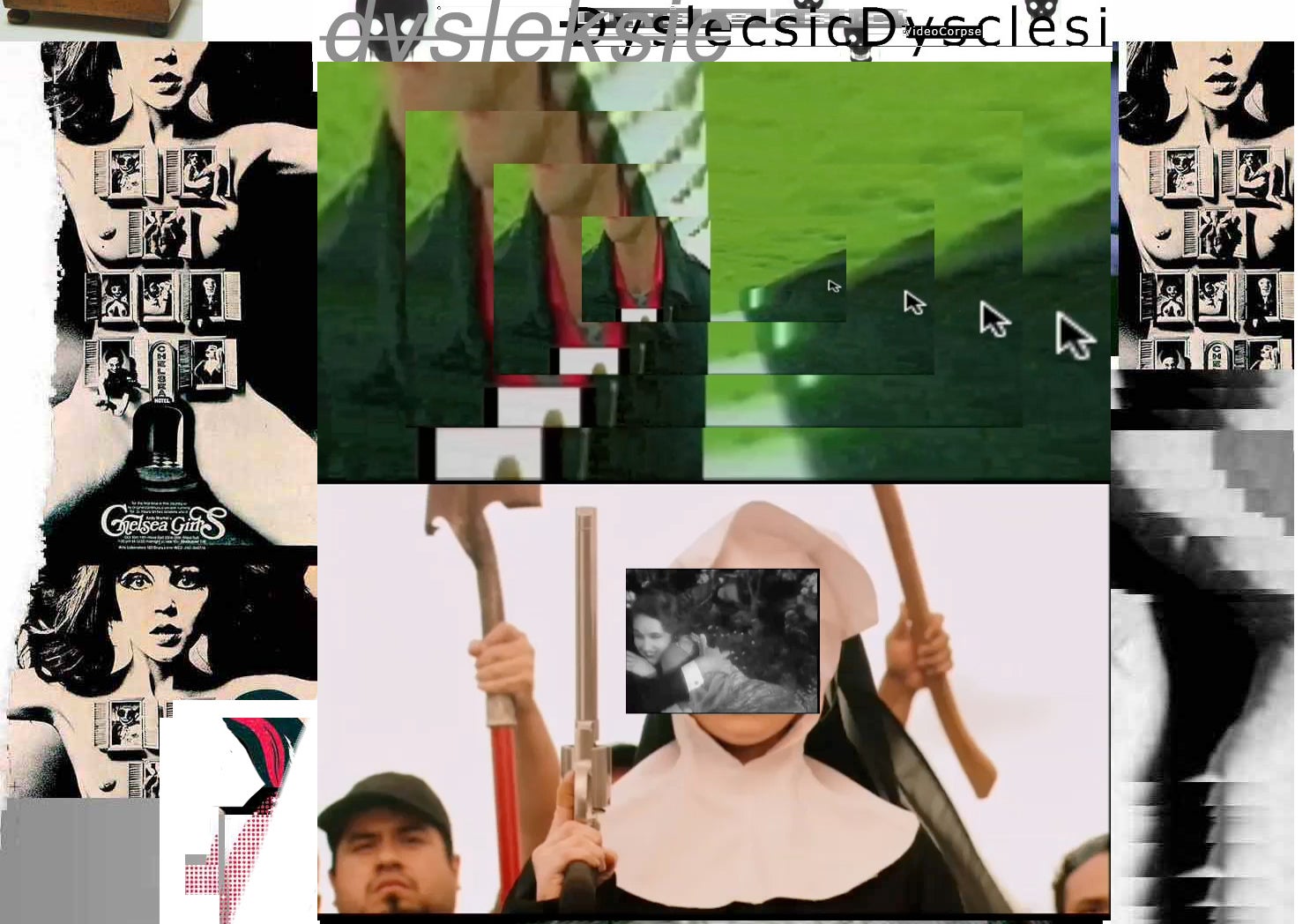 Image: screen grab from dysleksic.tumblr.com, 2012
Note: In keeping with the nature of the artists' work, this project purposefully taxes the limits of the browser. The experience may not work perfectly in all browsers or for all users, and some users may find content blocked by network security software.
---
Fredrik Nilsen made all of the exquisite photographs in the publication for the exhibition Ken Price Sculpture: A Retrospective; for Artists Respond, Nilsen shares his own artistic practice, pairing some of his own work with selected works by Price in an online gallery that explores an affinity for Price's sculpture. Read more about the project.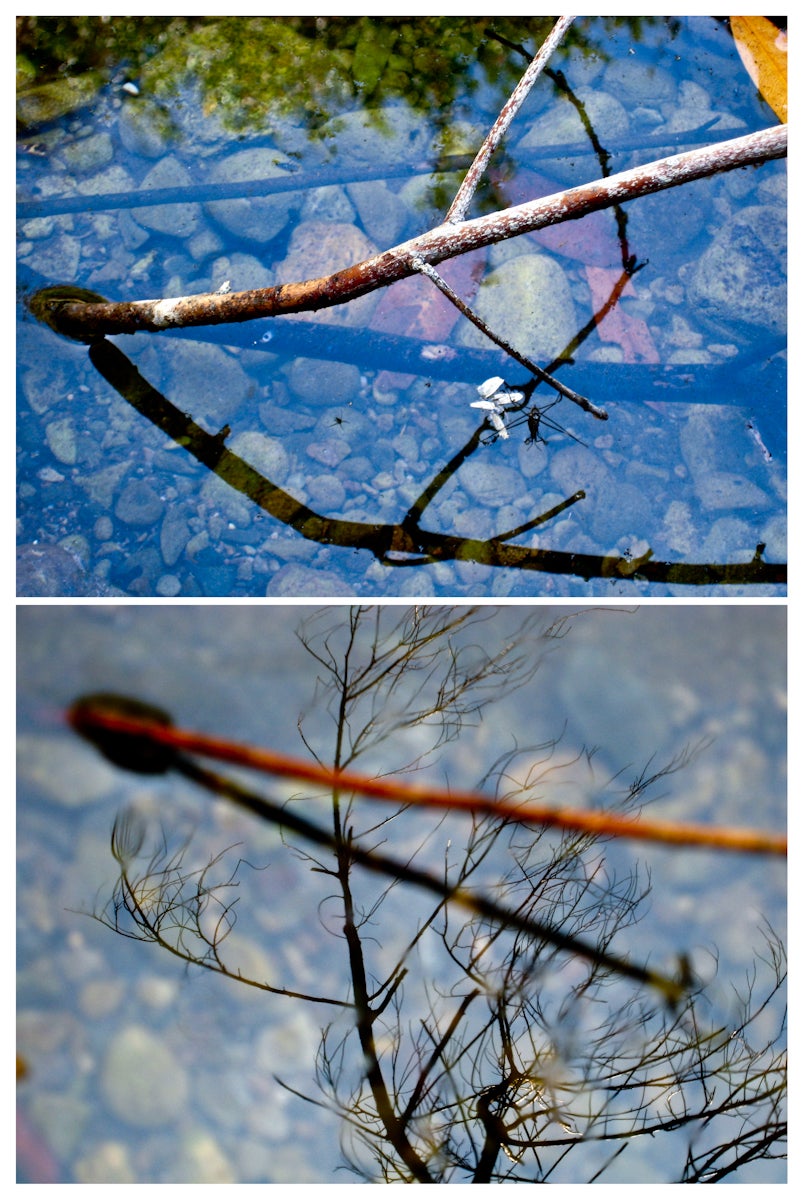 Water Study: Temescal, © Fredrik Nilsen
---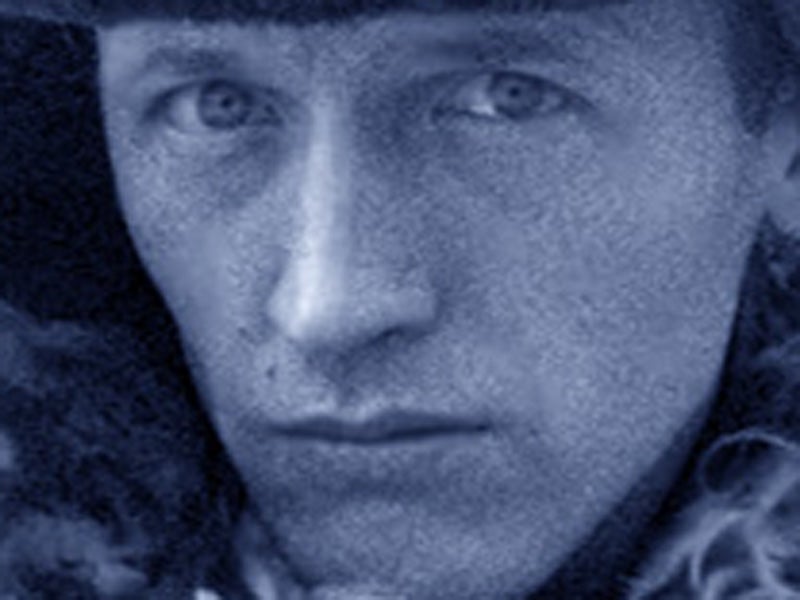 Artist Joe Biel chose The Sun and Other Stars: Katy Grannan and Charlie White as his jumping-off point. Inspired by the show, Biel created this online project, called Archive (fragment).  He said, of the project:
I thought the exhibition was brilliantly curated, because both artists deal with a unified view of image but in totally different ways. My response is made up of images of things that I thought about while looking at the work in the show. There are all these things that leap to mind about society, image, entertainment, what's real and what's fictitious...For me, it was a challenge to work on something for the web. I traditionally make drawings and paintings. I don't think I've ever made a web piece before. It was really freeing though. It allowed me to not worry about certain problems that I do worry about when I'm making an "object": surface quality, scale, how the drawing will occupy a gallery space. I thought about this project more as a piece of literature. These are the pure images out of my archive before they've been manipulated. For that reason, the piece has a more anthropological quality than one of my drawings, which is cleaned up by choice. Looking at the online response is like reading someone's diary, rather than reading a novel. I found the process interesting and liberating. (Read more...)
---
Will Pappenheimer & John Craig Freeman, Project O-rator
Project O-rator uses location-based augmented reality technology to introduce interactive 3-D images to visitors in the museum's BP Pavilion, drawing on the early Russan avant-garde and their experiments with emerging sound and projection technology. 
John Craig Freeman has created an augmented reality layer called Orators, Rostrums and Propaganda Stands. Will Pappenheimer's augmented reality layer is called Funnel Visions. Both artists are part of a collective called Manifest.AR. They said about this project:
"We were inspired by the campus at LACMA, the space between the buildings that creates this kind of public square, and further, by the early Russian avant garde and the work of Gustav Klutsis in particular. His work was trying to create a political discourse using early radio and projection technology. We recast this idea using 21st century emergent augmented reality technology. Using augmented reality, you can actually change the architecture and your perception of its function. This type of work, which is called GPS-located augmented reality, introduces a philosophical or psychological experience that juxtaposes one reality over another. Our work is a challenge to the notion of who owns virtual space and who is going to assert dominion over public virtual space. The virtual world is being constructed all around us."
Instructions:
On an iPhone or Android: go to http://project-o-rators.thruhere.net
 On an iPad, download Layar at http://layar.com and search for "LACMA"
The project is location based, so you will need to be on campus at LACMA to experience it. Once you launch the augmented reality layer, you will encounter virtual 3-D objects on screen, superimposed over the outdoor public areas of the campus as you view them on screen through the camera on the device.
---
 Yucef Mehri, Quetzalcoatl 2.0.1.2.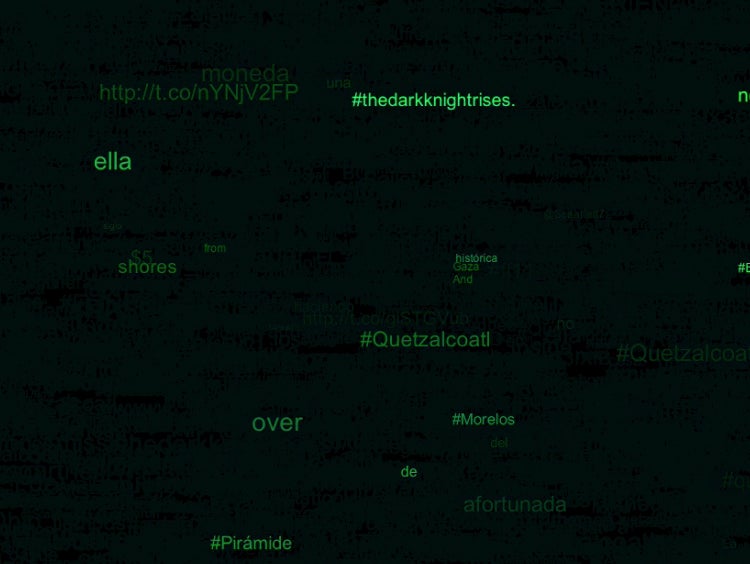 Artist Yucef Merhi created Quetzalcoatl 2.0.1.2. in response to The Children of the Plumed Serpent: the Legacy of Quetzalcoatl on view at LACMA through July 1, 2012. (Note: Supported browsers include Firefox, Safari or Chrome. Please enable the sound on your computer.)
Merhi's project draws in real-time news and information, recontextualizing it within what he calls a "non-linear poetic narrative" that draws on Mesoamerican myth, legend and imagery. " Technology is for me like paint is for a painter," he says. "I grew up in a technological world. The Internet has been crucial for me to think in different ways to assemble the poetic-art experience."
---
 Anthony Lepore, Night Walk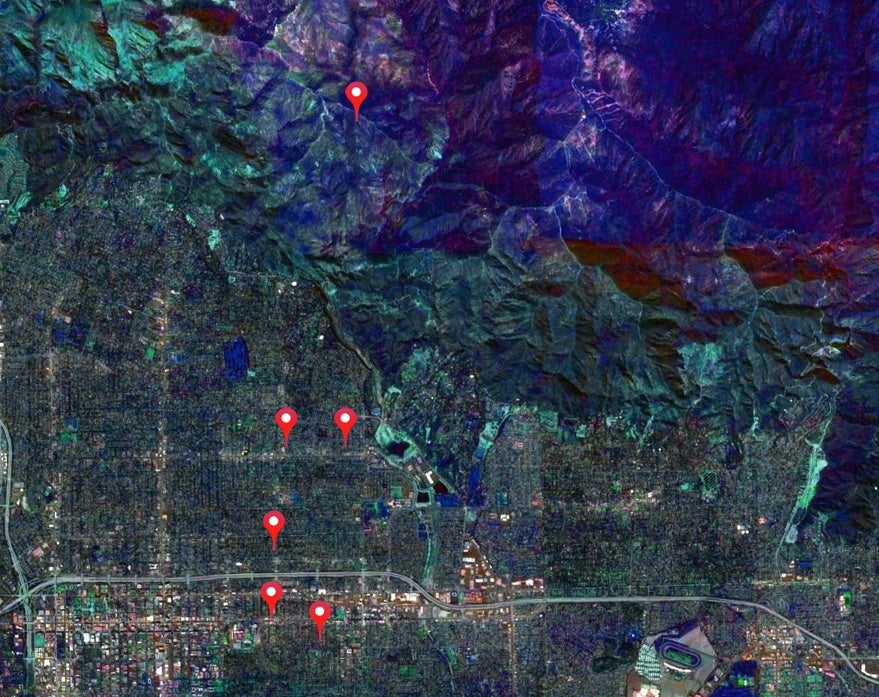 Anthony Lepore created  Night Walk, inspired by the exhibition Robert Adams: The Place We Live, and, in particular, by Adams's photos of suburban Colorado in the series Summer Nights.

Lepore maps a series of his own photographs created on evening dog walks near his home. From pictures of found debris from an epic windstorm to a favorite view of the Los Angeles basin from the mountains of the Angeles National Forest, the project documents Lepore's exploration of the urban geography of Southern California.
Read Lepore's statement about the project and his relationship to the work of Robert Adams. View Night Walk. 

---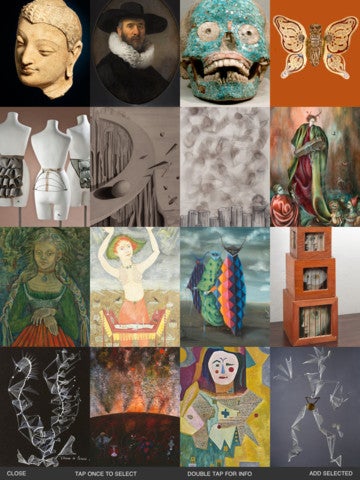 Inspired by the exhibition In Wonderland: The Surrealist Adventures of Women in the United States and Mexico, Jody Zellen designed this app for iPad and iPhone, simulating in digital form the exquisite corpse parlor game popular amongst early 20th century surrealist artists. She talks about the project here.
---
Jean Claude Wouters, Shaman, Dervish, & Esprit Frappeur

Jean Claude Wouters, a dancer and artist, once took part in an avant garde ballet perfromance in Brussels in which he wore a crinoline very much like those that give structure to some of the garments in our exhibition Fashioning Fashion: European Dress in Detail, 1700–1915. Exhibition curators Sharon Takeda and Kaye Spilker invited Wouters to revisit the crinoline and its relationship to the body in a series of exploratory movements.
Jean Claude talks about the experience here.
Jean Claude Wouters: Esprit Frappeur from LACMA on Vimeo.
Jean Claude Wouters: Shaman from LACMA on Vimeo.
---
Taking her inspiration from the work of Steve Wolfe, Jody Zellen scanned all the books in her library and used them as a point of departure to create Spine Sonnet, a web based work that invites viewers to read the titles of 14 randomly juxtaposed book spines as found poetry.
View Spine Sonnet | Read an interview with Jody about the project

"I have often thought about how reading multiple titles of my art and theory books becomes a kind of concrete poetry," Zellen says. "Seeing the books and records recreated by Steve Wolfe inspired me to delve into this project."
---
Michael Trigilio, The Resonant Pavilion—an interactive sound work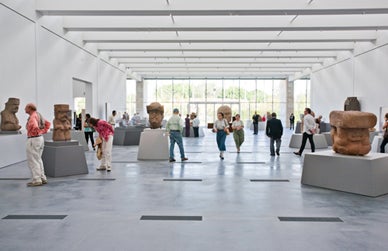 Be part of the art. Michael Trigilio has generated a 10-minute soundwork designed to be heard at LACMA in the vicinity of the Resnick Pavilion. Download or stream the piece here.
Visitors are encouraged to call 1-888-361-4NPR and contribute their own voice by humming, singing or sharing a comment. These interactions will be folded into the soundwork over a period of a few weeks, allowing the resonance of the Resnick Pavilion to evolve with public engagement.
The evolving soundwork will be available here, and by subscribing to the podcast feed.
---
Marisela Norte, In Your Presence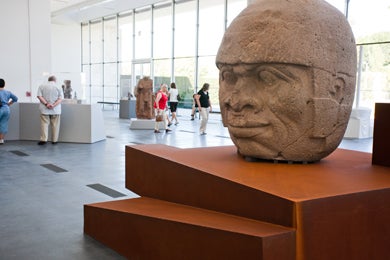 Marisela Norte is a writer from East Los Angeles. Her poetry and spoken-word performances often address every day life in Los Angeles, particularly her observations and experiences riding the bus.

As part of our Artist's Respond series, she contributed an original poem responding to the exhibition Olmec: Colossal Masterworks of Ancient Mexico.

In Your Presence
by Marisela Norte

You
Disappeared
Between rivers
The muddy low lands

A Technicolor jungle
Color formed
Against an obsidian glass sky

Where stars
Once connected
Begin to tell a story

Of the lonely
Impenetrable jungle
And the rains that
Did not stop

The jaguar emerges
The howling babies still cry

The ghosts of fingers
Trace the shape of
Your lips

Olmeca
Eres Mexico
Eres Africa

Those flame eyebrows mine

The memory of you
A bag of bones
Fragments
The small, polished stones
Laid out like petals

Red mirror sun
El rojo amanecer
Reflects your presence
Casting its light
On what is still here
And what is yet to be seen

Among the transplants
Like Los Angeles palm trees
Wilshire Boulevard commuters
Who will make the pilgrimage to stand before
Your stern gaze
Leave offerings of
Blue green translucent jade hearts

Foot printing
The advance
We take our place
Before the burial
Under a veil of vermillion dust

We disappeared
Between rivers
In your presence
We begin the eternal return home