Daily Pleasures: French Ceramics from the Marylou Boone Collection includes excellent examples of faience and soft-paste porcelain.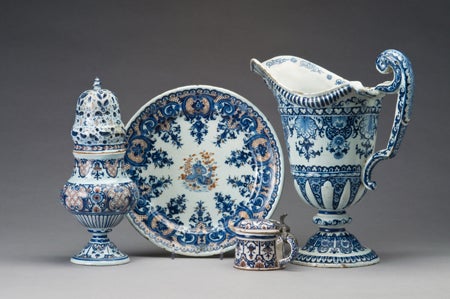 Faience: Although initially faience was an attempt to mimic true hard-paste porcelain imported into Europe from Asia, eventually, it became distinctive and sought-after in its own right. Faience is a type of ceramic made with an earthenware body that is coated with a white opaque tin glaze, and then decorated. Originally invented in Italy, where it was called maiolica, this tin-glazed earthenware was introduced to France in the mid-sixteenth century. It became quite popular in France, and French production of faience flourished when Italian ceramists emigrated, bringing with them the secrets of tin-glazed earthenware production.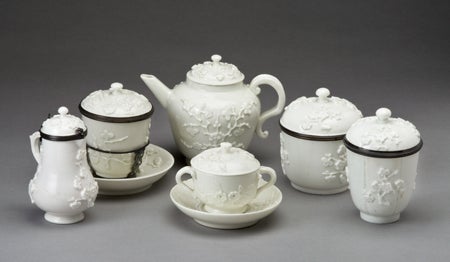 Soft –Paste porcelain resulted from experiments designed to unlock the secrets of Asian hard-paste porcelain. French ceramic manufactories of the 17th and 18th centuries tried different ways to achieve the translucency and strength of the beautiful porcelain wares coming from Asia. But they had not yet discovered kaolin, the vital ingredient for hard-paste porcelain, so they used ingredients such as ground glass and fine clay which necessitated a lower firing temperature. Their methods resulted in a type of porcelain, known as soft-paste, or pâte tendre. The first soft-paste porcelain manufactured on a commercial scale in Europe was produced in the late seventeenth century at Saint-Cloud, outside Paris. In the following century soft-paste porcelain was made in Chantilly, Vincennes-Sèvres, Mennecy, and other manufactories.