Two Centuries of Black American Art at LACMA: Who's Who
Robert Wilson | The Black Arts Council | Claude Booker | David C. Driskell | Cecil Fergerson
Overview | Exhibition Facts | Artworks | Howard N. Fox essay, "Introduction to Two Centuries of Black American Art at LACMA"
Robert Wilson and the path to Two Centuries of Black American Art at LACMA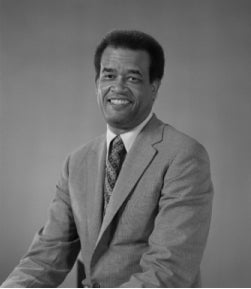 Robert Wilson, 1976
Robert Wilson joined LACMA's board of trustees in 1972 and served until 1985. Wilson's appointment coincided with an initiative among key board members to organize an exhibition of African American art for the nation's Bicentennial.
When the idea of such an exhibition was rejected by LACMA's curatorial staff, there was no one on staff with expertise in African American art. Board members Franklin Murphy, Sidney Brody, and deputy director Rexford Stead were determined to make it happen. To build support on the board, Murphy recruited the first two African American trustees: UCLA's Vice Chancellor for Academic Programs, Charles Z. Wilson, in 1971; and then Robert Wilson, who was not only a successful stockbroker but the first African American stockbroker in Los Angeles.
Following the recommendation of artist Charles White, Murphy and Brody contacted Fisk University Professor David C. Driskell. Deputy Director Rexford Stead followed up with a letter to Driskell in April 1974 outlining the museum's desire to organize a large survey of African American art and asking Driskell to create a proposal to guest curate the exhibition for LACMA. Driskell made his proposal in June 1974 and ultimately was appointed guest curator in January 1975.
Wilson then played an instrumental role in mobilizing the exhibition. A member of the Graphic Arts Council, Wilson commissioned artist Charles White to create a print that could be used to promote Two Centuries of Black American Art. White's print, I have a Dream, was reproduced on two versions of the exhibition poster, which sold successfully in the Museum Store for $3.00 and $5.00. Wilson also organized, with the assistance of LACMA's Lawrence Morton in the music department and Ron Haver in the film department, a dynamic series of public performing arts programs held in conjunction with Two Centuries. (View program brochure: page 1 and page 2.) He became so involved with the programming and promotion of Two Centuries that he was LACMA's envoy to both the Atlanta and Brooklyn venues, following the exhibition's premier in Los Angeles.
Wilson's support for African American artists at LACMA continued during his board tenure. In 1980 he approached curator Maurice Tuchman about acquiring a Richard Hunt sculpture for the museum's collection. Tuchman liked the idea, but allocated no funds. Wilson fundraised using his own connections and persuaded Franklin Murphy to raise remaining funds to cover any shortfall. Hunt's Extended Forms was acquired successfully and is on view, as of January 2010, in LACMA's sculpture garden.
LACMA is grateful to Wilson's ongoing commitment to the significance and legacy of Two Centuries of Black American Art, which inspired the museum to make its archive for the exhibition available online. Read Wilson's personal statement.
The Black Arts Council, 1968–1974
This description of the Black Arts Council (BAC) summarizes the LACMA origins of the BAC and highlights its impact at the museum. To create this overview of the BAC we have relied on Cecil Fergerson's African American Artists of Los Angeles Oral History Transcript: Cecil Fergerson from 1990–1994 (Department of Special Collections, University of California, Los Angeles/Online Archive of California) and LACMA's oral history interview with Fergerson (October 8, 2010).
The Black Arts Council (BAC) was founded in 1968 by LACMA art preparators Claude Booker and Cecil Fergerson. The BAC was the driving force behind African American programming at LACMA, and their activities paved the way for the seminal exhibition Two Centuries of Black American Art organized by the museum in 1976.
The BAC evolved out of a series of casual conversations between Booker and Fergerson, who were troubled by the museum's lack of outreach to African American artists and audiences but were inspired by the success of A Black Culture Festival, a one day festival held at the museum on September 28, 1968. (View festival invitation.) Coordinated by Sergeant William Knight and organized entirely by the museum's black security officers in conjunction with the exhibition, The Sculpture of Black Africa: the Paul Tishman Collection, A Black Culture Festival offered a full program of music, dance, fashion, lectures and tours of the exhibition by the officers. Booker and Fergerson were eager to continue developing similar events and programming at LACMA. They planned to form a network to support black art and artists in Los Angeles and to make the museum more accessible and welcoming to African Americans.
As LACMA employees, Booker and Fergerson used LACMA councils associated with curatorial departments as an organizational model for the newly founded group. But because the BAC was unaffiliated with a department or donors, they struggled to attract membership within LACMA. So they redirected their efforts outside the museum and reached out to the active black arts community. Initial meetings were held at a local church and featured artists' talks and illustrated slide lectures. The earliest artist and gallerist members included Gloria Bohanon, Dan R. Concholar, Alonzo Davis, Marion Epting, David Hammons, Raymond Lark, Leon Leonard, John Outterbridge, John Riddle, Arenzo Smith Jr., Donald Stinson, John Stinson, Ruth Waddy, Timothy Washington, and Charles White.
Enthusiasm for and membership in the BAC grew quickly. Booker and Fergerson wanted to legitimize the group's activities and enlisted the help of J. Stanley Sanders, an attorney and Rhodes Scholar from Watts, to draw up bylaws to structure the organization. The BAC's proposals would garner more attention from LACMA leadership as an official organization with designated leaders: Booker was president, Fergerson was secretary, Sanders was administrator, Donald Dowd was treasurer, and Bob Heliton was the graphic artist.
In 1969, the BAC proposed a three part lecture series to be held at the museum, which LACMA approved. For the first program in the series, the BAC invited artist Bernie Casey and artist and scholar Dr. Samella Lewis to speak and attendance was at capacity. The next lecture featured artists John Riddle and Charles White and turnout exceeded seating available. The third program was a different format: images of the work of black artists were projected while jazz musicians played music to accompany the slide show. Following the presentation was a panel discussion about black art including artists Gloria Bohanon, Bernie Casey, Dan Concholar, John Outterbridge, Arenzo Smith and others.
The artists' panel discussion was moderated by Truman Jacques, an African American TV host in Los Angeles chosen specifically for his celebrity status. Booker and Fergerson knew attendance would spike and arranged for seating outside of LACMA's Bing Auditorium to accommodate the crowds. To drum up further attendance and attention, Booker and Fergerson piped Paul Robeson's "I am America" outside the theater so it could be heard on Wilshire Boulevard. This attracted enough visitors to overflow the Bing Theater: the crowd spilled outside and the reception following the conclusion of the lecture series filled the Plaza.
Through the BAC, Booker and Fergerson pressured LACMA to organize exhibitions and programs for black art and to hire a black curator but the museum was slow to respond. Consequently, the BAC also worked extensively outside the museum, organizing field trips for students to art exhibitions, giving lectures in schools and clubs, and curating exhibitions of black art in diverse venues: restaurants, malls, banks, schools, and cafeterias. The BAC also was integrally involved in developing arts programming for the annual Watts Summer Festival.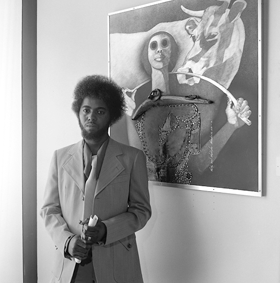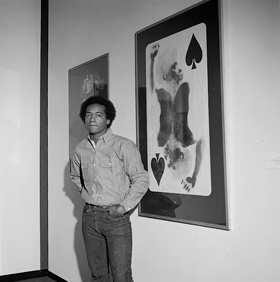 Left: Timothy Washington and his work in the exhibition Three Graphic Artists, 1971.
Right: David Hammons and his work in the exhibition Three Graphic Artists, 1971.

In 1971, LACMA mounted its first exhibition of the work of contemporary black artists: Three Graphic Artists: Charles White, David Hammons, Timothy Washington (January 26–March 7, 1971), curated by Joseph E. Young. However, the museum's decision to exhibit White, an established artist with a nationally renowned reputation, with accomplished but then emerging artists Hammons and Washington, in a small gallery space allocated to the prints and drawings department was controversial. The BAC asserted that White deserved a solo exhibition in the museum's main special exhibition galleries. The BAC organized a small protest and picketed the opening.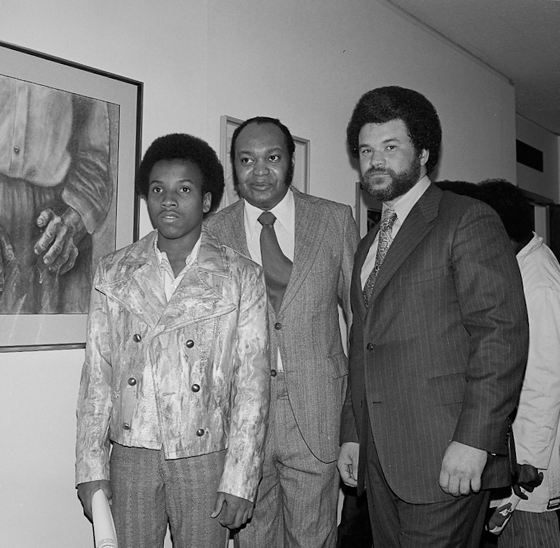 From Left: Richard Wyatt, Carroll Greene, Jr., and Claude Booker at the Opening of aPanarama of Black Artists, 1972.

Ongoing pressure on LACMA from the BAC to exhibit the work of black artists at the museum was successful the following year. With funding from the Samuel H. Kress Foundation, LACMA in association with the BAC, co-organized Los Angeles 1972: A Panorama of Black Artists (February 8-March 19, 1972), guest curated by Carroll Greene, Jr., an African American curator recommended by the BAC to LACMA's Modern and Contemporary Art Curator, Maurice Tuchman. The exhibition was held in the corridor gallery on the first level of the Bing Center, what is now LACMA's Art Rental and Sales Gallery. While many celebrated the collaborative project and the opportunities Panorama represented to black artists, many also lamented the marginalized space chosen for the exhibition and felt it undermined their success. Yet the BAC worked tirelessly to continue promote black art and artists and to create exhibition opportunities for black artists in southern California. Three Graphic Artists and Panorama became an important point of reference for developing and improving such exhibitions and programming at the museum.
The BAC ceased its activities in 1974, but the groundwork for Two Centuries of Black American Art had been laid. Following the untimely death of Booker at age 36 in December 1974, LACMA trustees Franklin Murphy, Sidney Brody and Robert Wilson began plans for a large survey of African American Art in the museum's principal special exhibition space. Deputy Director Rexford Stead appointed Fisk University Professor, David C. Driskell, to curate Two Centuries and write the exhibition the catalogue, which paid tribute to Booker's longtime efforts to present such an exhibition at LACMA.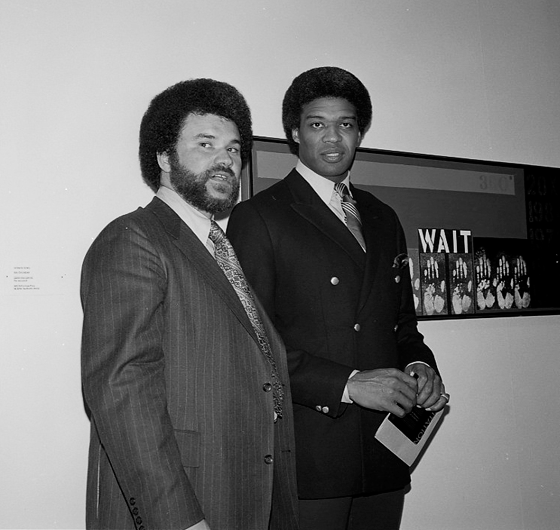 Claude Booker (left) and Bernie Casey at the opening of A Panorama of Black Artists, 1972.

Claude Booker was a leader in the movement to develop awareness of black art and exhibition opportunities for black artists. A co-founder of the Black Arts Council (BAC) in 1968 with fellow LACMA employee, Cecil Fergerson, Booker was the BAC's President until the organization ended in 1974.
Born in San Antonio, Texas in 1938, Booker moved with his family to East Los Angeles, where his father pursued his successful career as a tailor. Booker fought in the Korean War after high school and following his military service worked in the Los Angeles County Sheriff's Department. His next job for the County was in Purchasing and Stores, which led to his position as a shipping clerk at the museum beginning in November 1963. Though Booker knew little about art when he first arrived, Fergerson detected a strong interest and they became colleagues. By March 1964, Booker had joined Fergerson in the art preparation and installation department.
Booker was instrumental to the success of the 1969 black artists lectures series at LACMA and the museum's presentation of its first exhibitions of black art: Three Graphic Artists: Charles White, David Hammons, Timothy Washington (1971) and Los Angeles 1972: A Panorama of Black Artists(1972). In addition to all of his duties at LACMA, Booker also taught African American art history at Otis Art Institute, California State University Dominguez Hills, and Immaculate Heart College. He had other ambitions as well: Booker hoped to establish an African American art department at LACMA and to hire an African American curator. When LACMA did not deliver on these requests, he began to concentrate his efforts on forming an institution devoted exclusively to African American art and culture. He was one of the leading activists who worked to found what would become the California African American Museum, chartered in 1977.
Booker died suddenly of a heart attack on December 6, 1974, when he was only 36. But his impact had been significant: the California African American Museum was in the works and LACMA had been persuaded to organize in the museum's prime exhibition space a major exhibition of black art, which resulted in Two Centuries of Black American Art (1976). In the exhibition catalogue, LACMA Deputy Director, Rexford Stead, pointed to Booker's legacy to close his preface: "A final acknowledgement must be made in the instance of the late Claude Booker. Founder of the Black Arts Council and a former staff member of the Los Angeles County Museum of Art, Mr. Booker long insisted that an exhibition not unlike Two Centuries of Black American Art come to pass."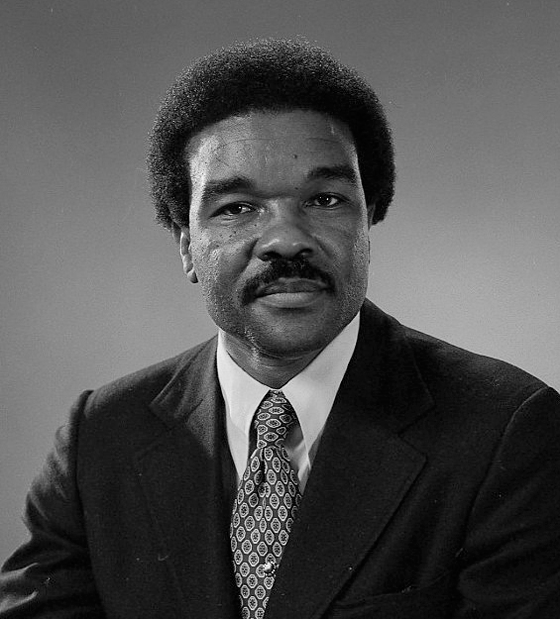 David Driskell, December 1974.

David Driskell pioneered the field of African American art history as curator ofTwo Centuries of Black American Art for LACMA in 1976, when he was Professor and Chair of the Fisk University art department and director of Fisk's Carl Van Vechten Gallery. Driskell remains a leading authority on African American art and is also a renowned painter whose work is in major museum collections nationwide.
Born in Eatonton, Georgia in 1931, Driskell studied at Skowhegan School of Painting and received his B.A. from Howard University in 1955. He earned an M.F.A. from Catholic University in 1962. He pursued post-graduate work in art history at the Netherlands Institute for the History of Art in the Hague and independently studied African and African American cultures in Europe, Africa and South America.
Driskell's groundbreaking and voluminous scholarship has earned him numerous honorary doctorate degrees and awards. He also is an art collector and since 1977 has served as curator of the Camille and Bill Cosby Collection of Fine Arts. Driskell taught in the art department at the University of Maryland from 1977 to 1998, when The David C. Driskell Center for the Study of the African Diaspora was founded in his honor. In 2000, Driskell received the National Humanities Medal from U. S. President Clinton.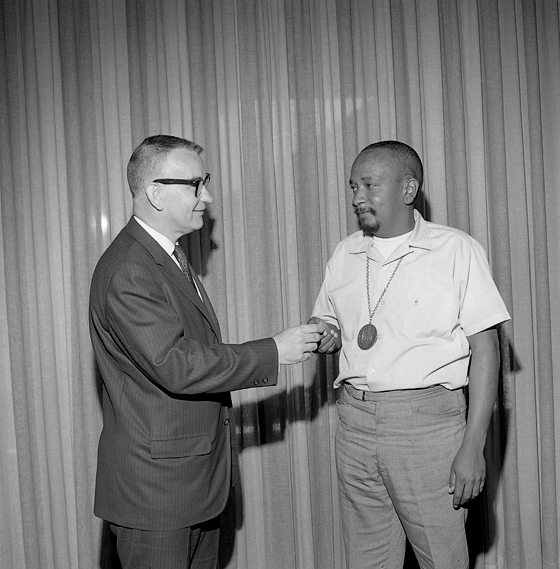 Cecil Fergerson being presented the 20 Year Award by Kenneth Donahue, 1968.

Cecil Fergerson has long been an influential leader in the Los Angeles arts community. His efforts to promote recognition and equality for black art and artists have been transformative and have earned him numerous awards, from the city of Los Angeles to the state of California. Born in Boley, Oklahoma in 1931, Fergerson was raised in Los Angeles' Watts neighborhood, where he attended Jordan High School and Compton Community College. In 1998, Fergerson was declared a "Los Angeles Cultural Treasure" and honored for fifty years of service. He had started in the art world in 1948, as a janitor for LACMA's forerunner, the Los Angeles County Museum of History, Science and Art in Exposition Park.
During his midnight to 8 am shifts, Fergerson became fascinated with the art surrounding him. He was particularly influenced by a Vincent Van Gogh exhibition in 1952 and developed an interest in the French impressionists. He made use of the museum's research library in his free time to research artists and artworks of interest in the collection. In 1953 he was promoted to the position of Museum Helper—moving and installing art and museum objects. In preparation for LACMA's 1965 opening in Hancock Park, chief curator Richard F. Brown brought experienced helpers and assistants like Fergerson, by then an art installer and preparator, to the new art museum.
The 1965 civil rights protests in Watts deeply affected Fergerson, and he considered how the social movement could influence the arts. He became involved in the Art West Association founded by Ruth Waddy and organized the first art exhibition for the Watts Summer Festival. He lectured at John Outterbridge's program at the Communicative Arts Academy in Compton and expanded his community programs to include the promotion of black history, forming The Federation of Black History and Art. With fellow LACMA employee Claude Booker, Fergerson co-founded the Black Arts Council (BAC) in 1968.
In 1969, Fergerson requested a promotion and was given the new title Museum Assistant II; his position remained the same, however. He filed a successful discrimination suit against LACMA and was promoted in 1972 to Curatorial Assistant to Maurice Tuchman, Curator of Modern and Contemporary Art. Fergerson's expertise as an art handler and curatorial assistant facilitated relationships with artists and collectors and he oversaw the installation of LACMA's renowned Art and Technology exhibition at the Japan Exposition in 1970.
Although Fergerson was not directly involved in Two Centuries of Black American Art (it was outside of his museum department), the 1976 exhibition would never have taken place without his and Booker's activism, which had become well known. For example, when Los Angeles mayor Thomas J. Bradley, the city's and the nation's first black mayor, needed someone to create a program for Black History Week in 1976, he turned to Fergerson. Between 1973 and 1998, Fergerson was the recipient of more than a dozen certificates of appreciation and awards for his involvement with and promotion of black art and culture in Los Angeles and California.
Fergerson retired from LACMA in 1985, but continued to curate exhibitions at what is now the Cecil Fergerson Gallery in Watts, named after him in 1998. In 1989 he was appointed Director of the Art Gallery at Los Angeles Southwest College. He is celebrated on the walls of the Watts Tower Art Center in artist Richard Wyatt's monumental 1989 mural Cecil.